What's the Future of Business: 20 Updated WTF Lessons for a Hybrid World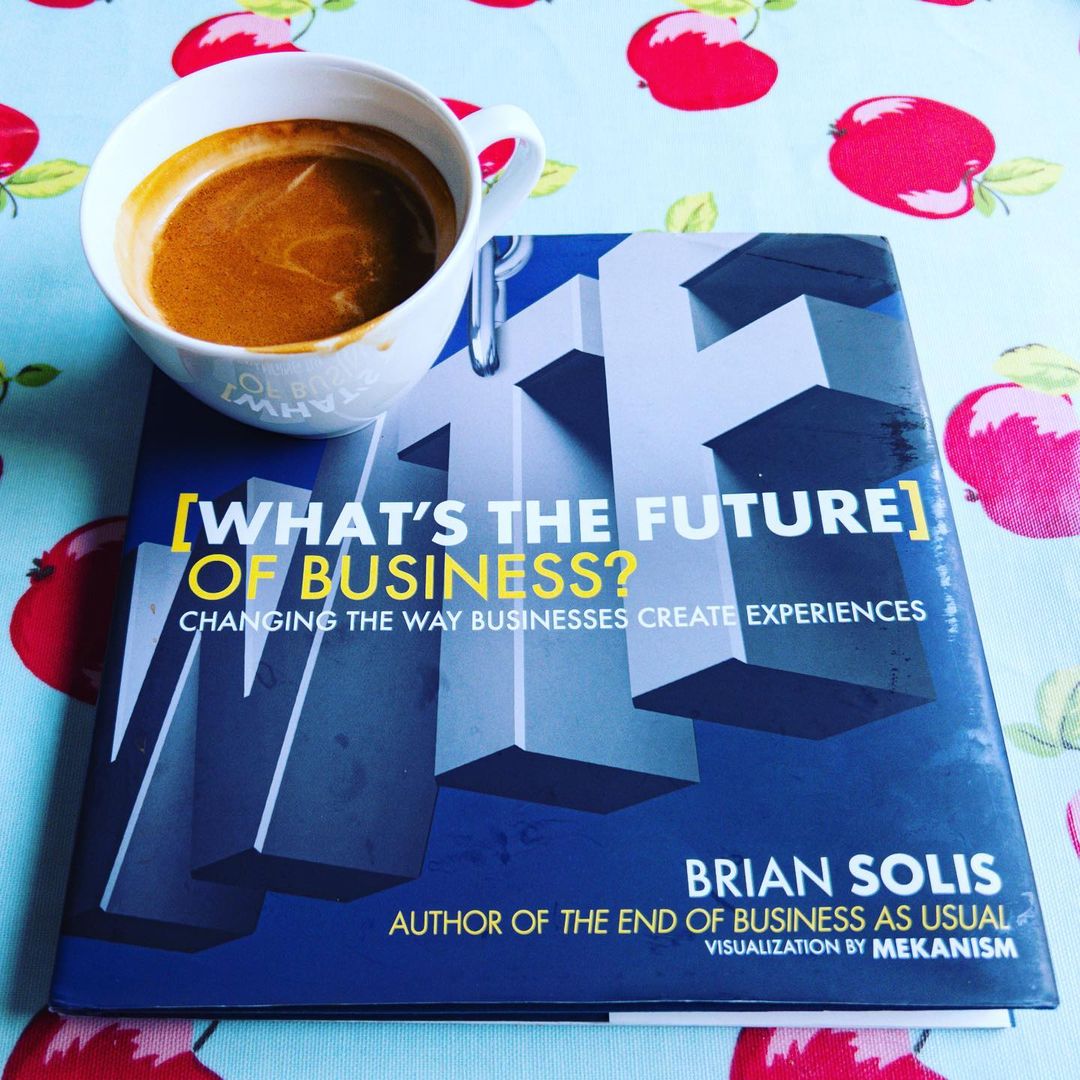 After all of this time, I'm not sure how I missed this. My friend Juan Carlos Giraldo published a compilation of 20 highlights​ after re-reading, What's the Future of Business (WTF): Changing the Way Businesses Create Experiences.
In the last few weeks, I've been hearing about digital and business leaders revisiting WTF or those coming across it for the very first time.
It all makes me smile!
Here's a fun fact, WTF wasn't on my roadmap of books to write. Following the End of Business as Usual, Shannon Vargo, my editor at Wiley, and I were working on X: The Experience When Business Meets Design. Shannon pointed out that the leap between the books was pretty significant. She suggested an ebook to serve as a bridge between them. I paused writing X, and went on to create WTF. We decided to experiment with the concepts of experience design explored the book in the design of the book itself. This led to releasing a hard copy.
Here's the progression…
End of Business: A new customer is emerging and here is how your business and leadership needs to transform.
WTF: Let's examine the new digital- and mobile-first customer journeys to reimagine the "cluster funnel" and create something more dynamic, personal, and intuitive.
X: Experience design in a hybrid world is the next frontier. Here's how to design unforgettable, personal, and meaningful experiences that rekindle customer relationships in a new world.
WTF's research-based exploration of the new journey and moments of truth was so significant, the book went on to become a print title. My friends at Mekanism designed the book (as well as X), and here we are…
Here's another fun fact. WTF and X are designed to emulate mobile apps on paper for a more intuitive read. The lessons of the book are designed into the reader's UX to serve as a meta experience. We call them analog apps.
20 Updated WTF Lessons for a Hybrid World
In no particular order of importance:
1: The Future of Business comes down to relevance and the ability to understand how technology affects decision making and behavior. The recognition of new opportunities and the ability to strategically adapt to them becomes a competitive advantage.
2: Humility is a gift and it's needed in business now more than ever.
3: Just because a business is embracing new technology doesn't mean that it is creating meaningful, productive, or measurable experiences.
4: Customer-centricity starts with recognizing that customer experiences are owned by the customers. This is why I refer to CX as the "customer's experience."
5: Experiences are the new "relationship."
6: As people research, read reviews, tweets, and blog posts, ask and answer questions in communities, watch videos, and simply learn from the experiences of others, these moments of the truth require study and definition. Think, "TikTok made me buy it."
7: The best brands consistently win in this increasingly important, "Ultimate Moment of Truth."  When a customer experiences the product, from purchase, to unboxing/usage, to service, and everything in between, they feel those experiences. When they share those experiences with others, the next potential customer might follow their lead…to or away from you. Your customer's experience and what they say when you're not in the room shouldn't be a surprise. You have to design it for what you want them to experience and share.
8: 79% of consumers say they use a smart phone to help make a decision. In addition, 70% of customers look at product reviews before making a purchase.
9: You might think that because you have strong SEO and a social presence on Facebook, Twitter, TikTok, Instagram, YouTube, that you're doing what you need to. But chances are, your customers are discovering solutions in ways and places where you may not appear. You have to link key words and phrases to the places, content, and people customers discover when seeking and considering new solutions and outcomes.
10: People are going to talk, so give them something to talk about. That's the opportunity you have if you focus on creating memorable and shareable experiences .
11: Digital influence is expanding beyond the boundaries of digital screens, impacting business decisions online and offline, especially in this new hybrid world.
12: Engagement is as much art as it science. Understanding the behavior of your connected consumer takes a working practice of the social sciences — from digital anthropology and psychology to sociology and ethnography".
13: Great products and services contribute to loyalty. Great engagement inspires advocacy. Underestimating experiences says everything about how you value customers. You reap what you sow. Shared experiences, whether good or bad, are what you earn or deserve. Design for the experiences you want people to feel, remember, and share.
14: The power of peer-to-peer influence is perhaps at its greatest potency. Peer-driven word of mouth has always held a powerful relationship between cause and effect. Now, influence is everywhere and it manifests in all forms content, across all platforms.
15: Social media is more about sociology and psychology than technology.
16L The brands that survive this era of economic disruption will be the ones that are best able to evolve because they recognize the need and opportunity to do so, before their competitors. This is the right side of digital Darwinism.
17: The primary function of UX is the development of an architecture that creates delightful, emotional, and sensory experience in every touch point, not just the design, but the experience itself..
18: Disruptive technology is the ongoing innovations that emerge without expectation to introduce a new capability or solution that creates a market and value network at the expense of an existing market and value network.
19: Remember, growth and value creation is at the top of the list of priorities for most CEO. When you seek to innovate and transform and secure new resources, represent the voice of the customer and speak the language of the C-Suite.
20: Disruptive innovation represents a shift in behaviors and value creation.
BONUS CHAPTER: A Special Surprise for WTF Readers