Definition, Benefits, & Trends for 2023
Call center technology has come on leaps and bounds from the traditional setup of shut-off booths and agents juggling corded phones.
At one end, there's still a huge part for desk-based agents to play. Nothing will ever replace the impact of human empathy and genuine connection. 
But, at the other end, we see self-service, automation, and even artificial intelligence features in modern call center deployments.
It's the combination of these (and everything in between) that sets the scene for the modern call center.
While it may seem a stretch from call centers of the 90s and 00s, the evolution of call center technology brings a better customer experience and a more profitable bottom line.
It's exactly this that we're going to dig into in this article.
What is call center technology?
Call center technology is any set of software and hardware that inbound and outbound call centers can use to facilitate their day-to-day calling activities. 
Inclusive of phone system features as a minimum, call center technology also includes features that enable a more effective customer experience than simply answering the phone.
Using functionality like call queuing, auto attendants, and supervisor features, call center technology empowers teams to provide better well-rounded customer service.
There's more to call center technology than simply handling calls, too. We'll jump into how call centers are evolving into multichannel and omnichannel contact centers later on.
First up, let's take a look at the key call center technologies you can take advantage of right now.
Key modern call center technologies
As call center technology has evolved, so have the many moving parts. 
Today, we see several different types of call center technologies that prove crucial to the enablement and productivity of your call center.
1. VoIP
VoIP stands for Voice over Internet Protocol. In simpler terms, this means making phone calls over the internet. 
Including both softphones and physical handsets, VoIP not only replicates the features of a traditional on-premises phone system but provides access to online features like cloud call recording and other unified communications features.
At the basic level, expect HD call quality over a stable internet connection and the ability to answer calls on your mobile or laptop. 
At the other end of the scale, you can integrate a line of business apps and use business analytics to ensure call center quality assurance.
Read More: What Is VoIP & How Does It Work?
2. Customer Relationship Management (CRM)
The hub of every call center team is the database where customer records live. Storing notes, documents, and the entire history of a customer's time with you, having access to your CRM system is vital for call centers.
But simply having access is no longer enough. Due to the fast-tempo nature of call centers and the desire to serve customers efficiently, agents must be able to access the right information without forfeiting time searching through records.
Integration between your CRM, phone system, and call center software is a must in the modern call center. Whether you're selling to new or servicing existing customers, the combination of your CRM and call center opens the door to a wealth of potential functionality like
Business Analytics
Customer experience scores
Trend analysis
Customized wallboards
Customer journey mapping
Read More: What is a CRM Software? How can it benefit your business communications?
3. Screen pop
The most basic function you get when integrating your CRM and your phone system is screen pop. This small but mighty feature allows agents to know exactly who is calling by performing a lookup in your CRM and displaying your customer data on the screen.
Not only can your agent greet your customers personally, but they also save time when validating their identification.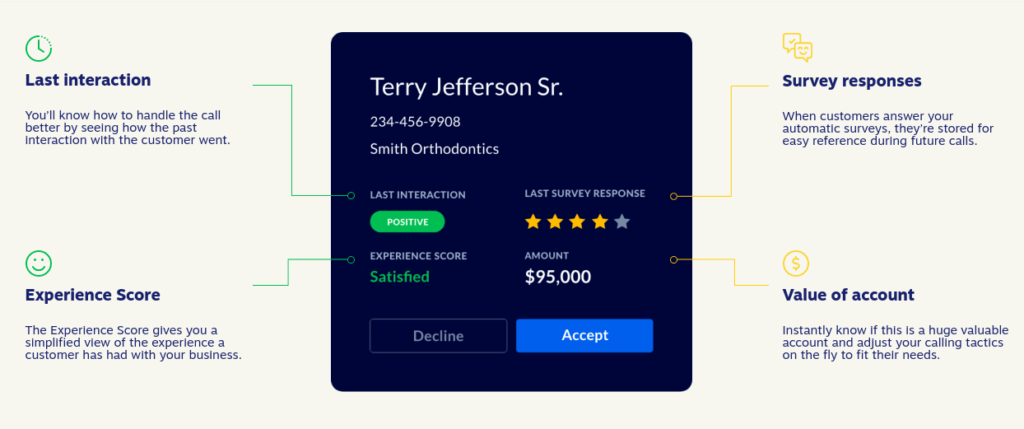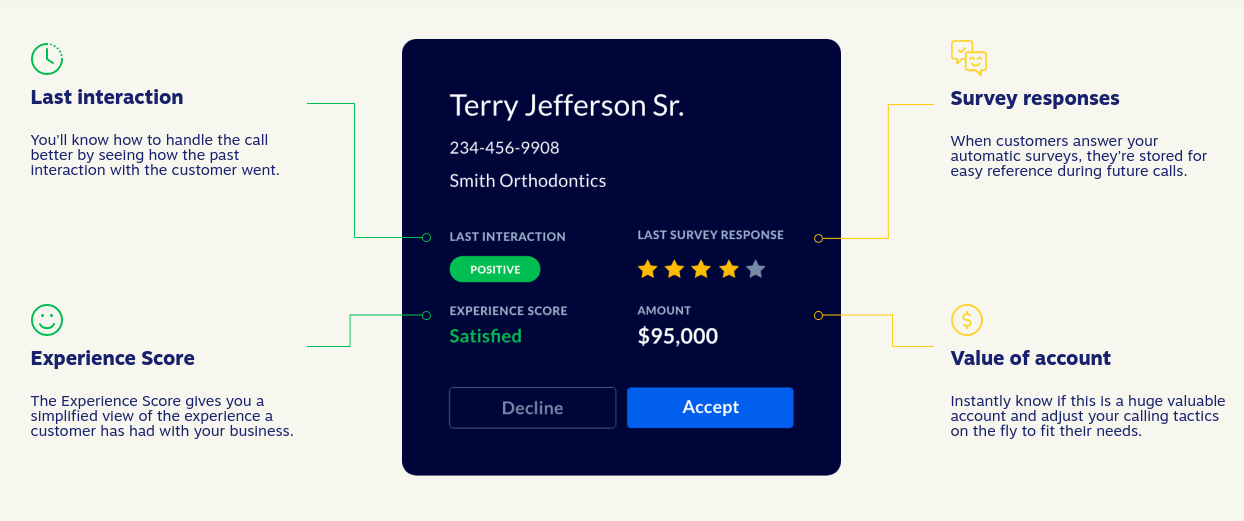 For example, when your sales team receives a returned call, they no longer need to ask for a ton of information. This stage is crucial when the caller may not have been expecting a sales call in the first place. They had the courtesy to call you back. Now it's time to win them over.
4. Skills-based call routing
When calls come into your business, you need them to go to the right agents. Otherwise, you end up with technical calls in the sales department and lesser-skilled agents handling complex queries.
A skills-based call routing system automatically routes calls to the right person for the query using pre-configured skills.
For example, Mohammed is a billing specialist but isn't trained to resolve broadband faults. When a caller selects option 3 for broadband faults, you don't want him to receive the calls.
Instead, Tina, who is a broadband specialist, picks up the call and remedies your customer's problem in no time at all. This reduces the number of touchpoints it takes for your customers to have their problems resolved and ensures the right resource is always available.
Read more: What is Skill-Based Routing?
5. Interactive voice response (IVR)
Your IVR is the entry point to your business for customers opting to call you. 
When they dial your phone number, the first thing they hear is:
"Thank you for calling ABC, how can we direct your call? For XYZ, press option 1, for something else, press 2."
When your caller selects an option, you can choose to filter their query with some more options, redirect them to a pre-recorded menu (like opening hours), or transfer them to the relevant agent to handle their call.
Using an IVR ensures your caller gets the best choice of being routed to the correct means of resolving their query.
Read more: What Is IVR & How Do Businesses Use It?
6. Call queuing
In most contact center solutions, an overwhelming problem is the amount of time it takes for customers to reach a customer service rep.
Using what you've programmed in your IVR will help get callers through to the right queue. But what happens in those queues?
At the very least, callers expect to know how many people are in front of them or roughly how long they will be waiting. Agents, too, benefit from call queuing, as they can see how many people are waiting on wallboards.
The most effective call queuing allows you to handle more calls more efficiently. Using features like automatic call distribution (ACD) and queue callback helps this happen.
ACD is a system that hunts for the next available agent using preset groupings, removing the need for agents to opt to pick up an incoming call and selecting them as the most appropriate person to field the call.
Read more: What is a Call Queue?
7. Queue callback
A callback is when your VoIP phone service returns a call back to a customer who was unable to reach an agent. Callers choose to leave the queue safe in the knowledge they'll get called back when an agent becomes available.
If your business has moved to flexible working hours, you may not have staff in your call center all the time, so it's hard to manage inbound demand. Instead of making customers wait, offer them the option to carry on with their day and receive a call back later on.
By offering a proactive service that calls customers back, you remove the agitation often caused by long wait times.
Read more: Advanced IVR: Reducing Abandoned Calls
8. Call recording
Contact center managers can listen back to calls with agents and customers to help train new staff, remedy customer complaints, and ensure a high-quality customer experience.
For compliance reasons, like PCI DSS, recorded calls can omit the storage of payment card details by offering a keypad instead of speech and suppressing dial tones.
Basic call recording is offered on standard phone systems, with the ability to simply record calls. 
At a higher level, you can select automatic, on-demand, and user-initiated call recording when you need it at the moment.
Read more: Advanced IVR: Collecting Credit Card Payments Securely
9. Call analytics
Measure call center performance across all agents, queues, and customers with in-depth and proactive reporting.
Using call analytics, you can get insight to make faster, better decisions for your business (without the need to employ a data analyst). 
Managers can forecast call volume, call metrics, and route calls based on real data. Choose from one or all of the real-time, historical, and overall analytics across your business dashboard to work out which departments and channels perform best or need improvement.
Use out-of-the-box reports or build your own to measure exactly what you need at any given time.
Read more: Call Center Analytics & How to Actually Be More Data-driven
10. Conversational AI 
When introducing self-service options, one of the first technologies you should look at is conversational AI.
Often seen deployed as a chatbot, conversational AI is the technology that can provide a 99% reduction in customer service time and a 10-point improvement in customer satisfaction.
For simple queries, like "when are your opening hours?" conversational AI can even provide 24/7 support.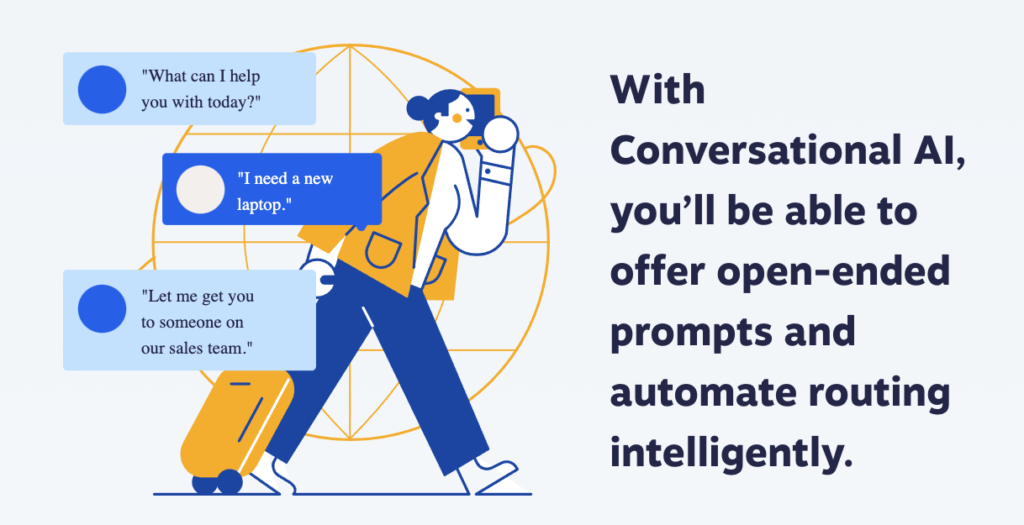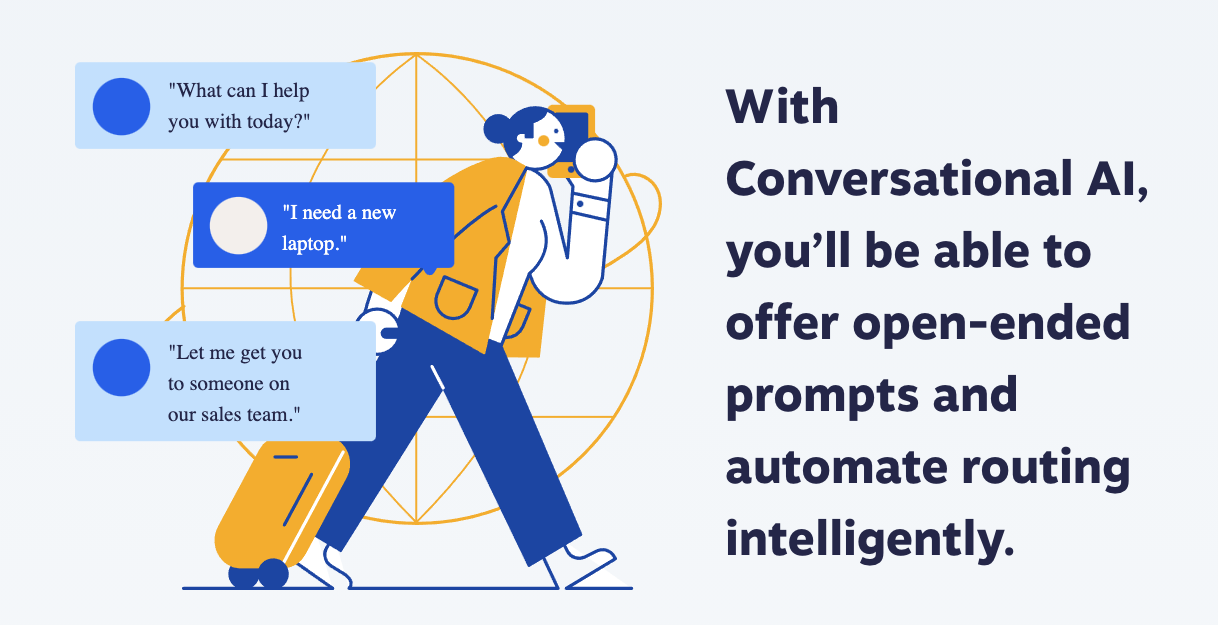 For complex queries, your chatbot can run lookup queries from your knowledge base and provide answers in multiple languages without the need for human intervention.
Outside of chatbots, call centers use conversational AI for appointment scheduling, booking hotel reservations, and even understanding your caller's voice when they join your call queues.
If a caller says "I need help with my bill", your AI call center technology will ensure they get routed to the right department without them needing to listen to all your options.
Read more: What is Conversational AI? Get Started with Fundamentals
11. Voicemail to email
If you choose to use voicemail in your call center, it's not very effective if your messages sit idle in a mailbox waiting for people to check them.
Instead, voicemail to email ensures the right person or department gets emailed 1) a notification and 2) a transcript of the voicemail your customer has left.
From here, you can make a conscious decision whether to call them right back, take action, or prioritize other tasks.
Read more: What is Voicemail to Email?
12. Predictive dialer
For call centers that make outbound calls as well as (or instead of) receiving inbound calls, predictive dialers automatically pull up the next contact for your agent to call.
Using automated click-to-call functionality, you remove the human error of dialing numbers and concentrate on getting to know the caller's information before they answer the call.
In the case of scheduled callbacks, you completely remove admin time as anyone who opted for or has been marked for a callback gets added to your queue and their callback is triggered when an agent becomes available.
Read more: How to Create a Predictive Dialer Campaign
Key benefits of technology in the contact center
Now you know what the major contact center technologies are, it's time to learn what they bring to your business.
Rather than buying call center software because it sounds good, think about the positive impacts new technology can bring and how they translate to better business outcomes.
From reduced business costs to happier customers, let's touch on the high-level benefits of call center technology.
1. Streamline internal processes
With new technology, you might find you streamline internal processes and improve how staff works internally. 
Instead of sticking to outdated principles (but without reinventing the wheel), call center technology empowers agents to apply modern customer service methods. 
The use of callbacks, for example, requires zero added effort from agents but allows your customers to remove themselves from the queue and get back minutes (or even hours) of their day. 
When you implement call analytics, you can find obvious flaws in your customer service process. It might be that average handle time spikes every Monday morning or that you experience a higher abandoned call rate on Friday afternoon.
Having access to this data enables you to make the necessary changes to get your ship in order.
2. Service customers more efficiently
To meet and manage customer expectations, you must first answer their calls in the amount of time they expect.
While it would be perfect to answer every call immediately, that's not always possible. This is where announcing hold times helps set expectations.
But nobody likes waiting on hold. So don't make your customers do that.
Route them through the right team quickly by providing choice up front. Be it conversational AI, natural language processing, speech recognition, or the option for a callback, these all reduce the burden on your team and help your customer get to the right place quicker.
3. Reduce operational costs
When moving to cloud-based call center technology, there are easy cost wins compared to legacy on-premises deployments.
You immediately remove the maintenance and callout fees when something goes wrong. Cloud call centers are software-only (bar any VoIP headsets your agents use) and support is available either through a self-service tool or through a dedicated team who can access your tech via the internet. 
When you need to scale up and down, the nature of "as a service" cloud deployments allow you to do so. In seasonal times, when you might hire 50 temporary staff, there's no longer a need to install a new phone system module or enter a long-term contract. You just scale up for the period of time you need the software licenses.
When the time comes for new features to be rolled out, you get them delivered via the cloud. There's no need to upgrade and there's nothing to install. That's the beauty of the cloud.
Call center technology trends 
There's no doubt we're experiencing a shift in call center technology. Features do get rolled out on a regular basis. So it's important to always be aware of potential and emerging call center trends.
1. Demand for video calls
Throughout the coronavirus pandemic, we got accustomed to the benefits of video calls. 
Both inside and outside business, it has become the norm to use video to help give context, pick up on facial expressions, and physically show what we were talking about.
In call centers, especially customer support functions for physical goods, the ability to show a broken dishwasher or plumbing issue may speed up the time to fix compared to a customer explaining the situation and getting part names wrong.
But some agents might find being on video calls intrusive or end up suffering from video fatigue. There must be a fine balance if we're to start using video calls in the call center.
Read More: Is Video in the Contact Center a Good Idea?
2. Enablement of home and hybrid working
Some of your agents may have found the forced work-from-home experiment of 2020-2021 more productive than their office environment.
And if their work was boosted by this change in environment, is there a good reason to make them come back to the office? 
On the other hand, some people found it hard to adapt to their new setting. Keeping both sets of people happy will be crucial. A hybrid working plan is high on the list for many call center managers.
Read More: Is Your Contact Center Prepared For Hybrid Work?
3. Integration with back office functions
There's no doubt that when your frontline agents and back office staff work together, you get better customer outcomes.
But the process of walking to find them, explaining the customer problem, then relaying a partially-remembered message is one that undoes the great experience your customer has had so far.
Instead, the integration of back office tools, like UCaaS, with your call center agents, enables constant two-way communication and the ability to find an available subject matter expert to seek help from or transfer a call to.
Move from bit-part customer support to genuine query escalation.
Read More: Never Compromise the Customer Experience: Why Integrating UCaaS and CCaaS is Key
4. Integration with other communication channels
Outside of calling, how many other ways are there for customers to contact you?
If your answer is none, you can be sure that your customers are expecting more.
Heck, if your answer is four, you can still be sure customers are expecting more.
By implementing a multichannel contact center, you can integrate the following contact channels with your existing call center solutions:
Email 
Web chat
Facebook
Twitter
Instagram
WhatsApp
Text messaging (SMS)
Adding these channels to your contact center technology helps you serve customers on the channel of their choice. 
Not adding these channels gives customers a reason to find a provider who does support that channel.
Read More: Multichannel Contact Center: Everything You Need To Know
Future of call center technology
All these call center trends will play a huge part in the future of call center technology.
With the rapid development of cloud features and the advancement of AI, the call center of tomorrow may be unrecognizable compared to the call center of today.
Expect more self-service and faster customer interactions as they drive demand for how they want to contact your business. 
Don't expect all your agents to be in the office all the time. (Unless they choose to.)
Do expect integration with back-office phone systems, line of business apps, and your CRM. Everything flowing as one customer service system is the end goal for call centers, and we're not far from achieving this.
Don't hold back on testing new channels and do interview customers to see if they propose a better way of communicating. They know their habits and preferences best, but make sure you know them second best so you're always providing the best possible customer experience.
Call center technology FAQs 
What is the main function of a call center?
The main function of a call center is to answer inbound calls from customers or prospects. Call center technology enables smart queuing and distribution of these calls for the greatest customer experience. Some call centers may use outbound calls as well or only.
What is the difference between a call center and a contact center?
A call center only supports voice calls whereas a contact center agent supports other channels like email, web chat, and social media. 
Contact centers are either multichannel or omnichannel. Multichannel means you have more than one channel available for your customers to reach you . Omnichannel takes those channels and shares information cross-channel. So when a caller references a web chat they had last week, the agent handling the call has access to the entire customer journey.
What are the types of call centers?
There are five types of call centers:
1. Inbound call center
2. Outbound call center
3. Mixed call center (inbound and outbound)
4. Multichannel contact center
5. Omnichannel contact center
Which software is used in call centers?
Every call center uses its own suite of software and tools. These range from phone systems, CRMs, line of business apps, and specialist call center technology.
Nextiva provides business VoIP, CRM, call center, and multichannel contact center software for small and medium businesses ready to take their next step in cloud communications.