Best Business Text Messaging Tools in 2023 [Free & Paid]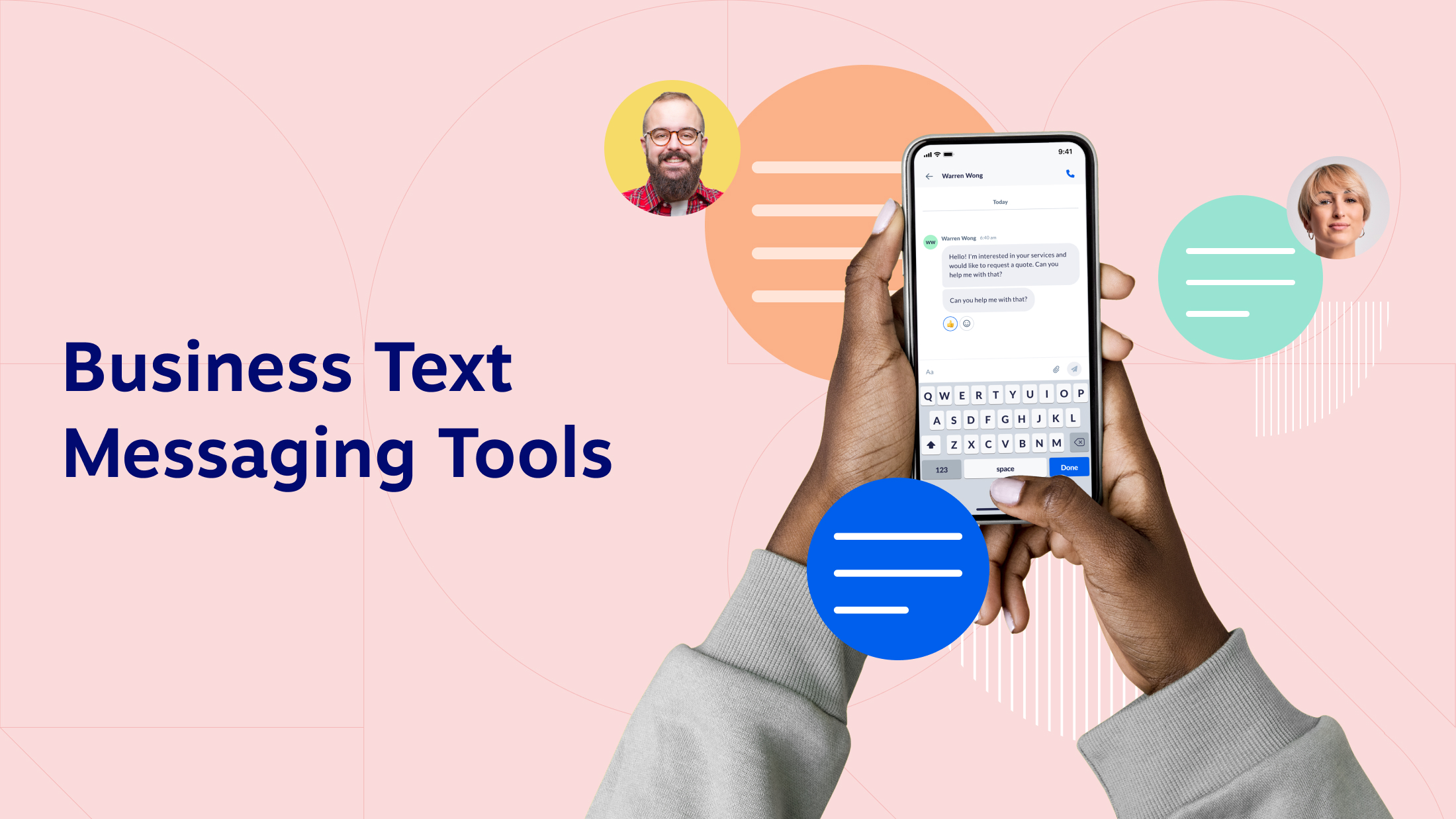 There's nothing worse than nearly landing a new customer but having it fall through last minute because of missed communication. With 92% of US adults using text-enabled phones daily, the right business text messaging strategy can ensure your business never misses another opportunity. 
Business text messaging is a profitable and productive addition to any modern workflow. Here, we help you choose the best texting and SMS services for your business so you never miss another lead and your team is always in sync. 
Business Text Messaging Basics
Text messaging and text message marketing is now an essential tool for businesses of all sizes. With open rates that exceed 95%, text messages are a highly effective form of communication. Far beyond just sending promotional messages or text message blasts, text messaging for businesses serves a wide range of purposes, including:
Creating message templates for easy campaign management
Meeting confirmations and real-time appointment reminders
Personal thank-you messages and sending coupons to customers
Multimedia messages and picture messaging for visual effect
Drip campaign automation 
Team/group texting
When using text messaging for business purposes, following specific guidelines is important. You should always obtain consent from the intended receiver before sending text messages. This means providing an opt-in mechanism if they no longer wish to receive text messages.
In addition to obtaining consent, text messages should always use clear and concise language. Don't send slang or abbreviations that may confuse readers; personalize your messages whenever possible.  
Business Text Messaging Campaigns & Use Cases
Traditionally, text messaging campaigns have been used by e-commerce businesses sending blast campaigns, alerting readers to some discount or sale. 
On the contrary, business text messaging campaigns ARE NOT limited to e-commerce businesses. In fact, companies in all industries, from tech to healthcare, can benefit from using text messaging to communicate with their customers and employees.
Business Text Use Cases
Beyond e-commerce campaigns, some practical use cases for business text messaging include: 
Meeting confirmations & contact information: Send a text message to confirm a meeting time, location, and any necessary contact information.

Example: Hi John, looking forward to our call today at 3pm MST. Here's the meeting link: XXXXXXX". 

Personal thank you messages: Send a personal thank you message to a customer after they purchase or complete a service. These can be set up with autoresponders to ensure each customer receives the same experience.

Example: [Name], thanks for your purchase! Your patronage allows us to keep doing what we love – so thank you!
 

Team/group texting: Use group texting to communicate with your team members quickly and efficiently.

Example: Guys, just a quick message to say thank you for your outstanding work. It's great working with such a motivated and competent team. Thank you, everyone!

Product/order updates: Send follow-ups and updates on a customer's order or product delivery status.

Example: [Name], just letting you know your order has just left the tour warehouse and is with the courier. You should receive your order within 5 working days. Here is your tracking link: XXXXXXX, 

Sending gift cards: Send gift cards to customers as a thank you or promotional offer. Uber Eats is a primary example of a company using this effectively. 
Two-factor authentication: Use text messaging as part of a two-factor authentication process to enhance security.
Customer job-site photos: Send photos of a job site to customers to keep them informed about progress.
Appointment reminders: Send appointment reminders to customers to reduce no-shows.

Example: [Name], looking forward to seeing you Wednesday 12th, 2 pm at Lioness Nail Salon! See you soon. 

Customer event/community invites: Invite customers to events or community activities via text message.

Example: [Name], just a heads up, there's an action-packed fundraising event at Jack Gear Reserve this Saturday, 13th August.
These are just a few examples of how businesses can use text messaging effectively. The key is thinking creatively and finding ways to use text messaging that will benefit your business and your customers.
Best Business Text Messaging Services
There are many business text messaging services available in 2023. Different services offer a range of features and capabilities, from group texting and scheduled messages to auto-replies and custom fields. Some of these services, such as larger CRMs like Salesforce and HubSpot, are often too complicated for the needs of many businesses. 
With so many options available, choosing the right service for your business can be difficult.
Here, we'll compare some of the best business text messaging services available in 2023, both free and paid, to help you choose the best option for your needs.
EZ Texting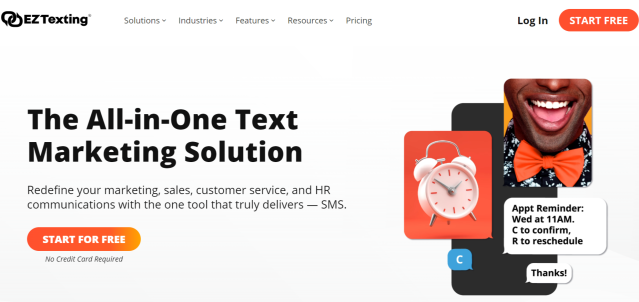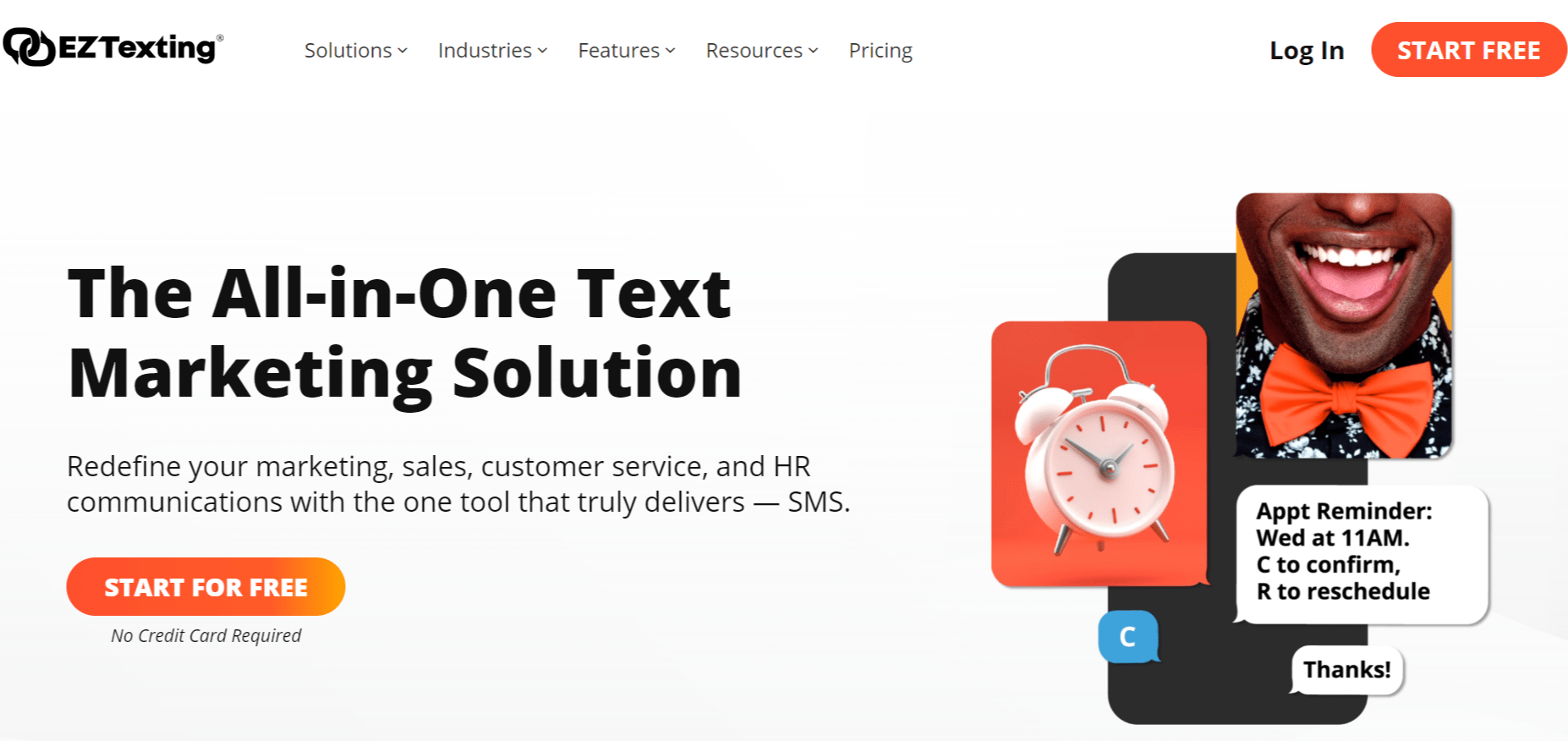 EZ Texting is a top-rated cloud-based business texting service for the United States and Canada. Their messaging solutions help businesses deliver superior customer service with streamlined communication and improved outreach efforts.  
Key features
Key features include bulk texts, MMS, delivery reports, reminder campaigns, text polls, and text-to-landline functionality. 
Pricing
Plans start at $20 per month, which includes 500 messages per day for $0.027 per message.   
G2 rating
4.5 out of 5 stars from 537 reviews. 
SimpleTexting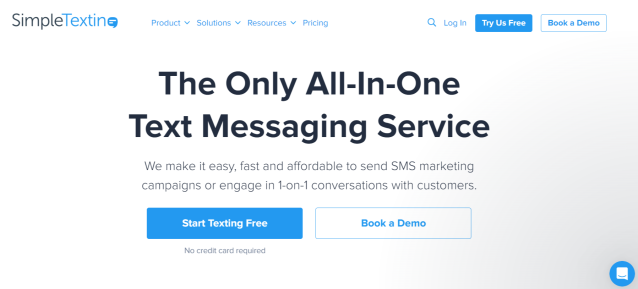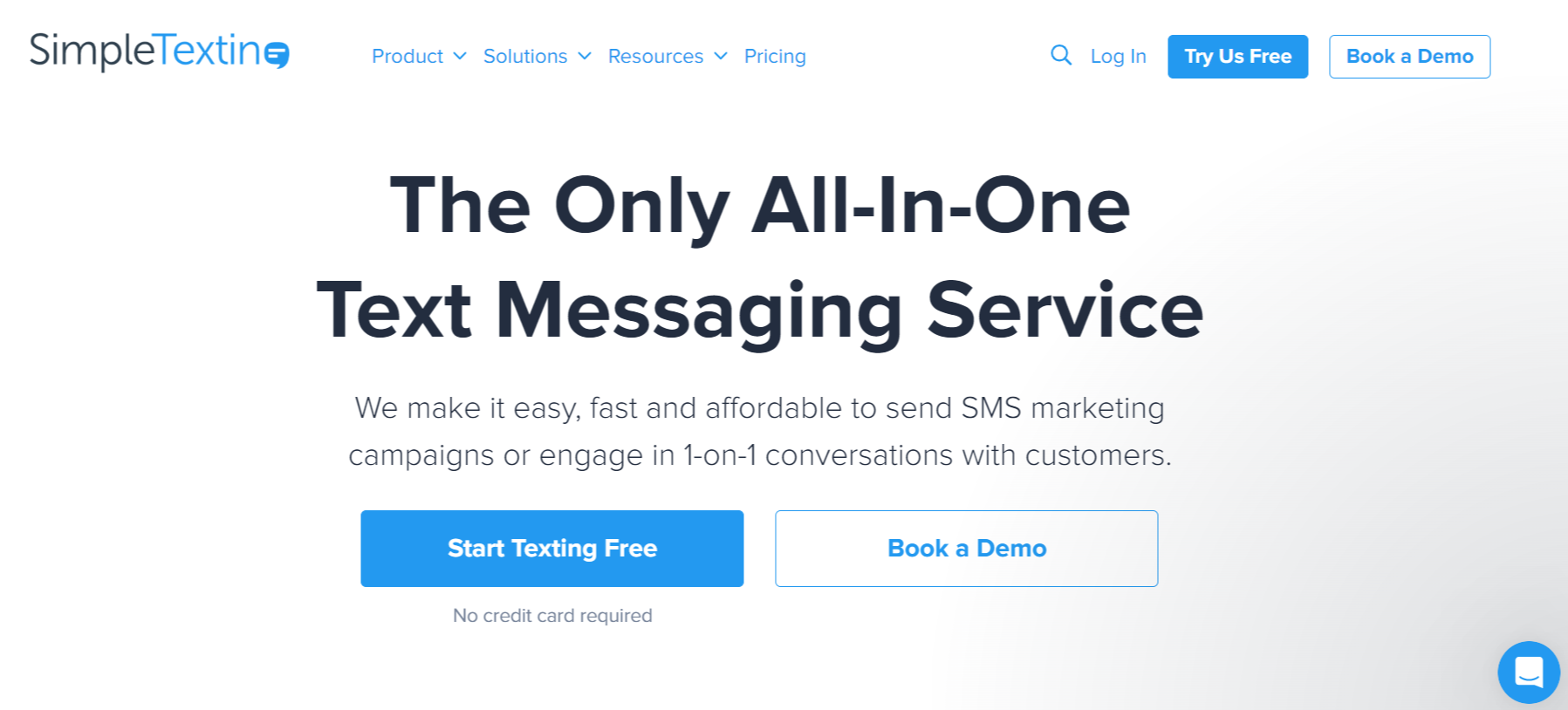 SimpleTexting offers a clean and affordable SMS marketing service, primarily for more customer-facing purposes. 
Key features
SimpleTexting offers powerful text marketing features like mass text alerts, customer service, and automated campaigns. They also feature a mobile text messaging app for on-the-go communication with thousands of contacts or on a 1-1 basis. 
Pricing
SimpleTexting offers flexible credit-based plans starting at $29 per month, growing to $899 monthly for businesses with unlimited contacts. 
G2 rating
4.7 out of 5 stars from 622 reviews. 
Nextiva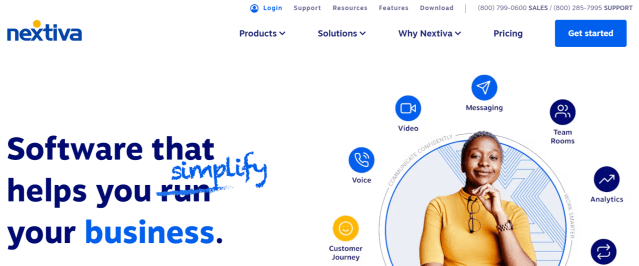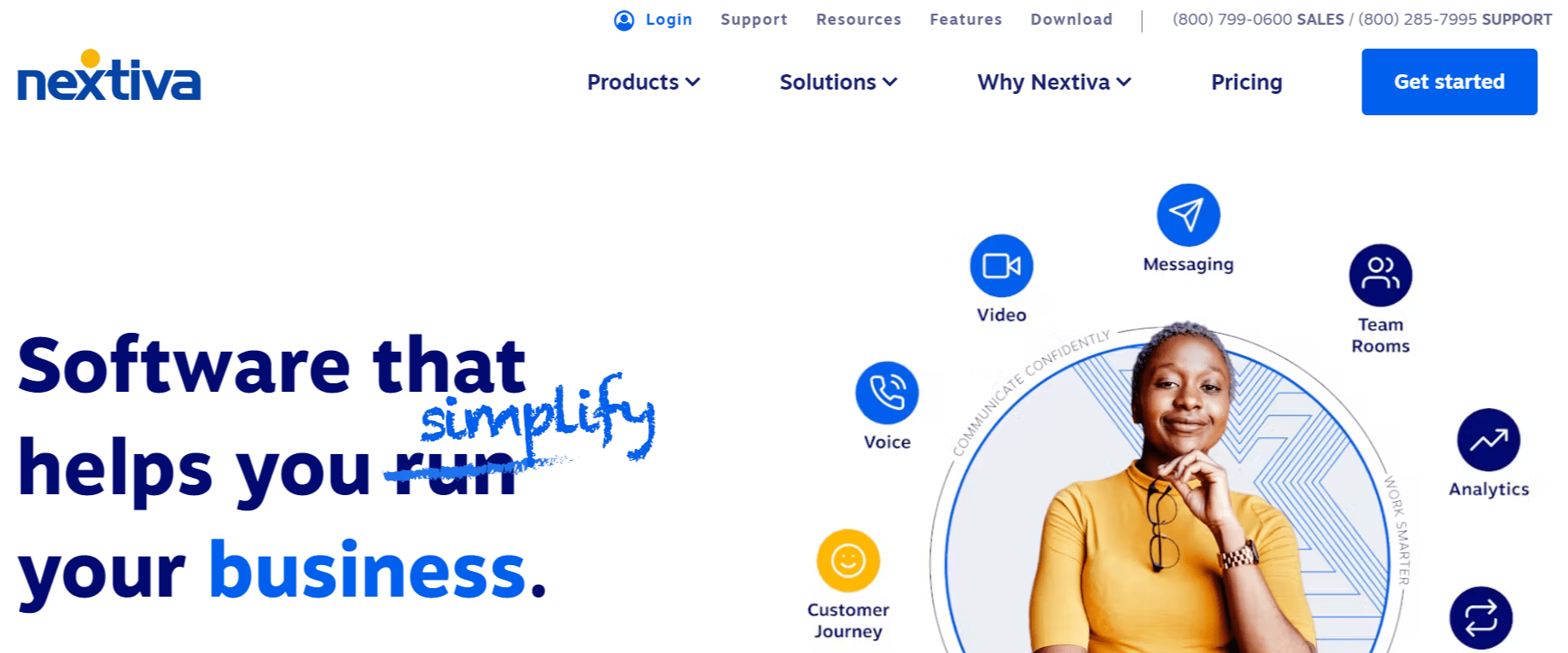 Built with business owners in mind, Nextiva is a cloud communications company combining many communication channels to improve business sales and communication.  
Key features
Nextiva excels at helping businesses of all sizes deliver exceptional customer experiences which drive business results. Features and marketing tools include:
A clean, user-friendly interface 
Cell phone calls, voice, video, collaboration, SMS, chat, and survey features 
Virtual phone numbers and toll-free texting support 
Generous high-volume text message volumes with both mobile app and desktop functionality  
Pricing
As a text messaging platform, Nextiva payment packages start at the Essential package for just $18.95 per user per month, scaling to Enterprise packages for larger teams at $32.95 per user per month. 
G2 rating
4.4 out of 5 stars from 2,312 reviews. 
Textedly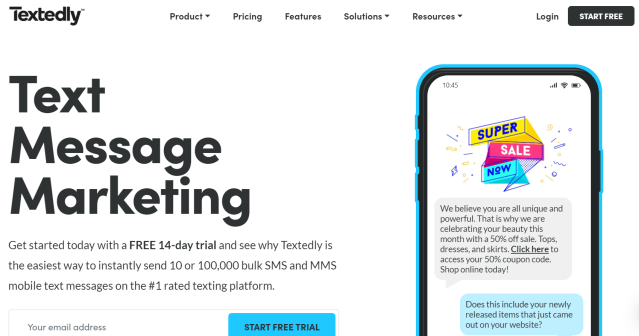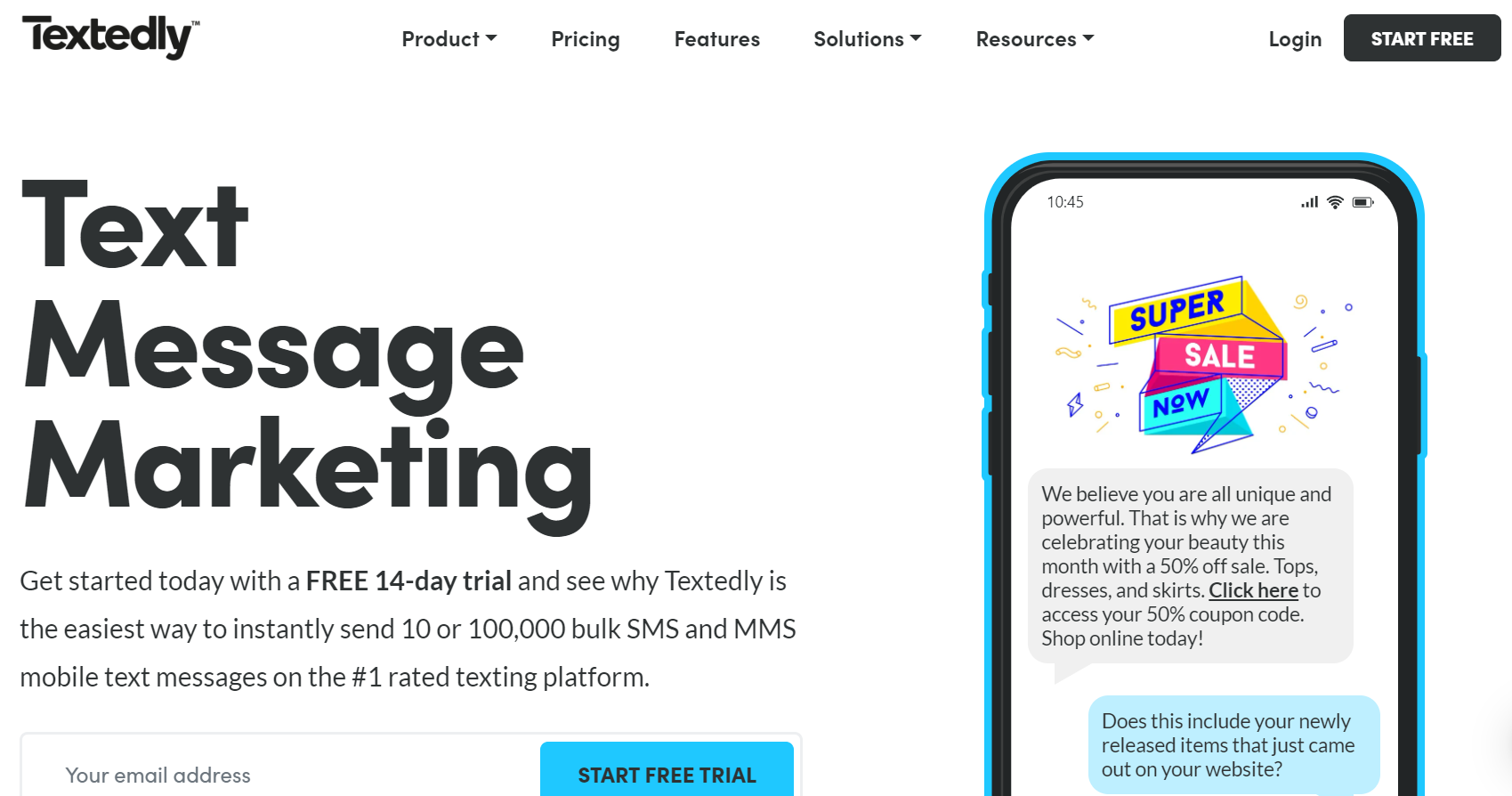 Textedly is a bulk-messaging text service that can send SMS and MMS mobile (Android and iOS) text messages.
Key features
Textedly boasts easy-to-build opt-in subscriber lists with simple mobile phone number list import. Scheduling, message delivery tracking, and SMS drip campaigns. 
Pricing
Starting from $26 per month (billed annually) for 600 text messages, growing up to $349 per month for 18,000 monthly text messages. 
G2 rating
4.7 out of 5 stars from 352 reviews. 
Brevo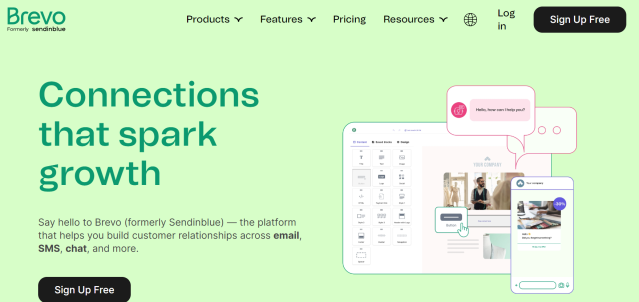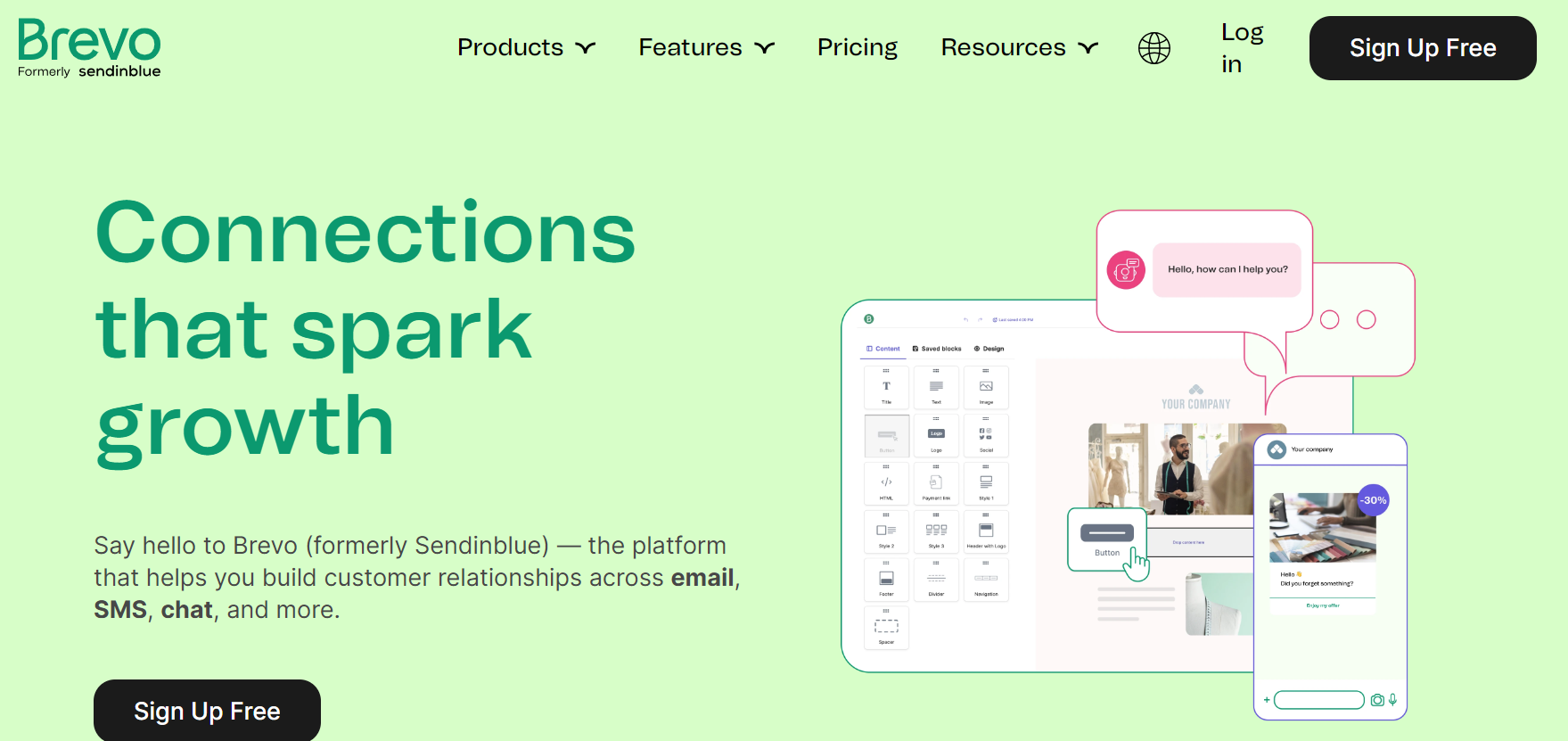 Integrating email, SMS, and chat to build customer relationships across numerous verticals, Brevo (formerly Sendinblue) helps businesses stay in touch with their customers and nurture profitable ongoing relationships.   
Key features
Brevo's stand-out features include ease of use, outstanding support quality, and ease of setup.
Pricing
Brevo has numerous plans for varying feature inclusions, ranging from a free account up to custom options. 
G2 rating
4.6 out of 5 stars from 990 reviews. 
Podium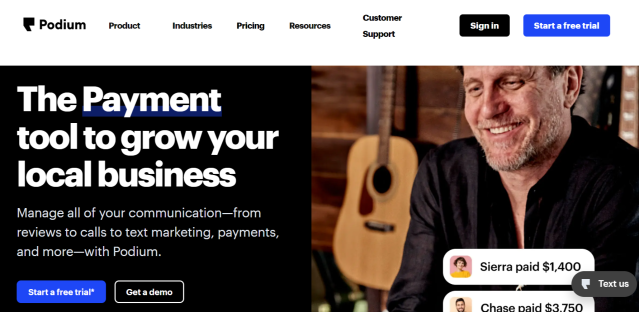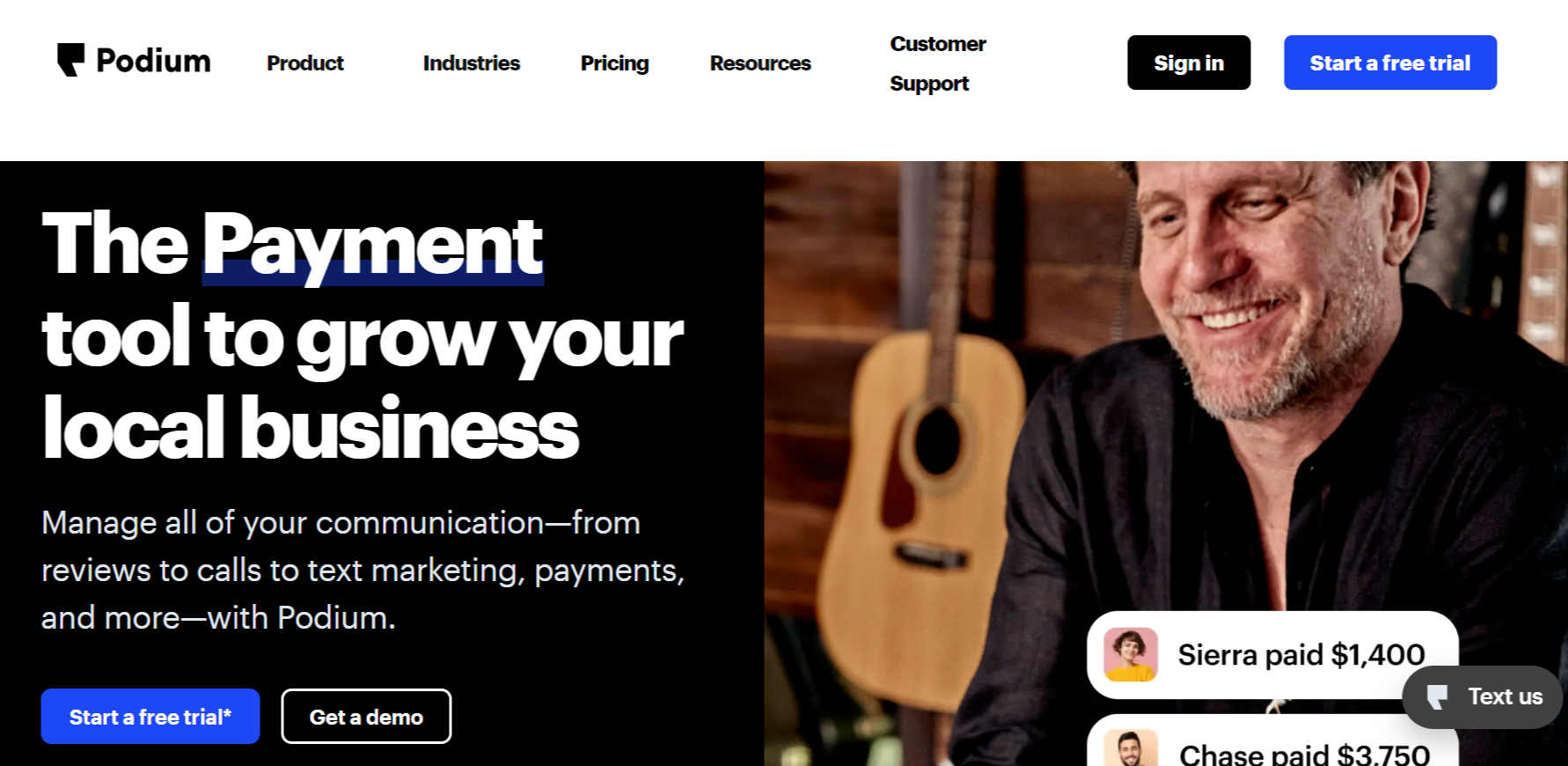 Podium is an all-in-one marketing and communication platform designed to help local businesses. 
Key features
Podium's key features include outstanding customer feedback management, social network monitoring, and sleek dashboard use and integration. 
Pricing
Podium's payment plans start at $249 per month for small businesses or self-employed entrepreneurs just getting started, growing to $599 for larger, mature companies. 
G2 rating
4.5 out of 5 stars from 1,326 reviews. 
Salesmsg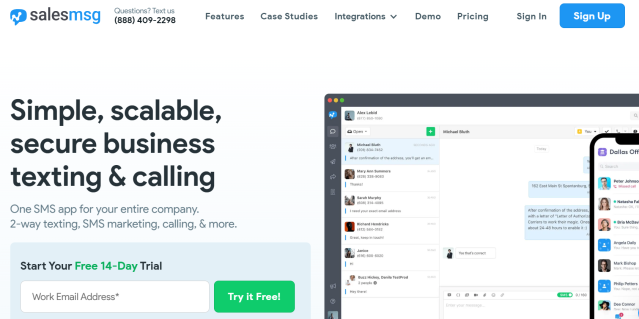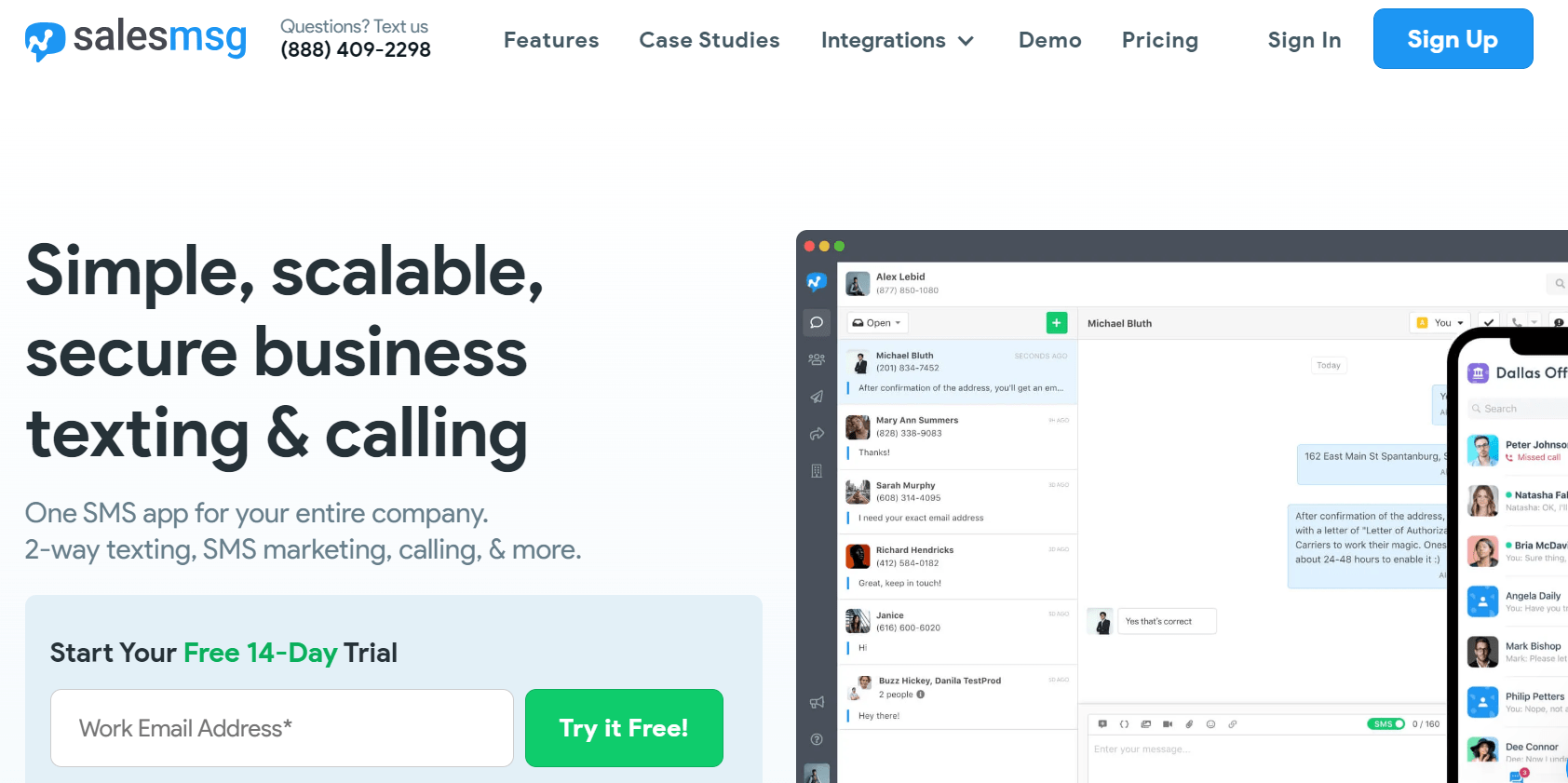 Salesmsg is a dedicated SMS app catering to small and large businesses. Facilitates two-way texting, SMS marketing, calling, and more. 
Key features
Offers transactional SMS messaging, API integration, and two-way text messaging. 
Pricing
Credit-based payment plans start at $25 per month, growing to $249 monthly for 7,500 credits, with custom options available.
G2 rating
4.6 out of 5 stars from 111 reviews. 
TextMagic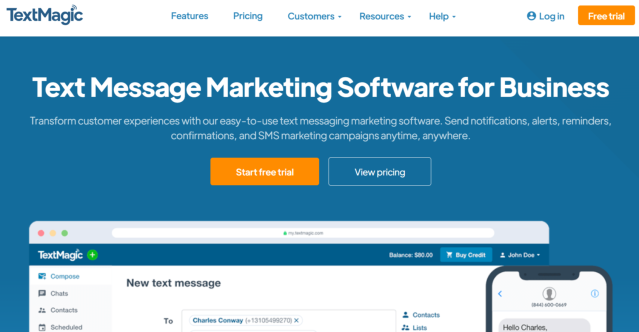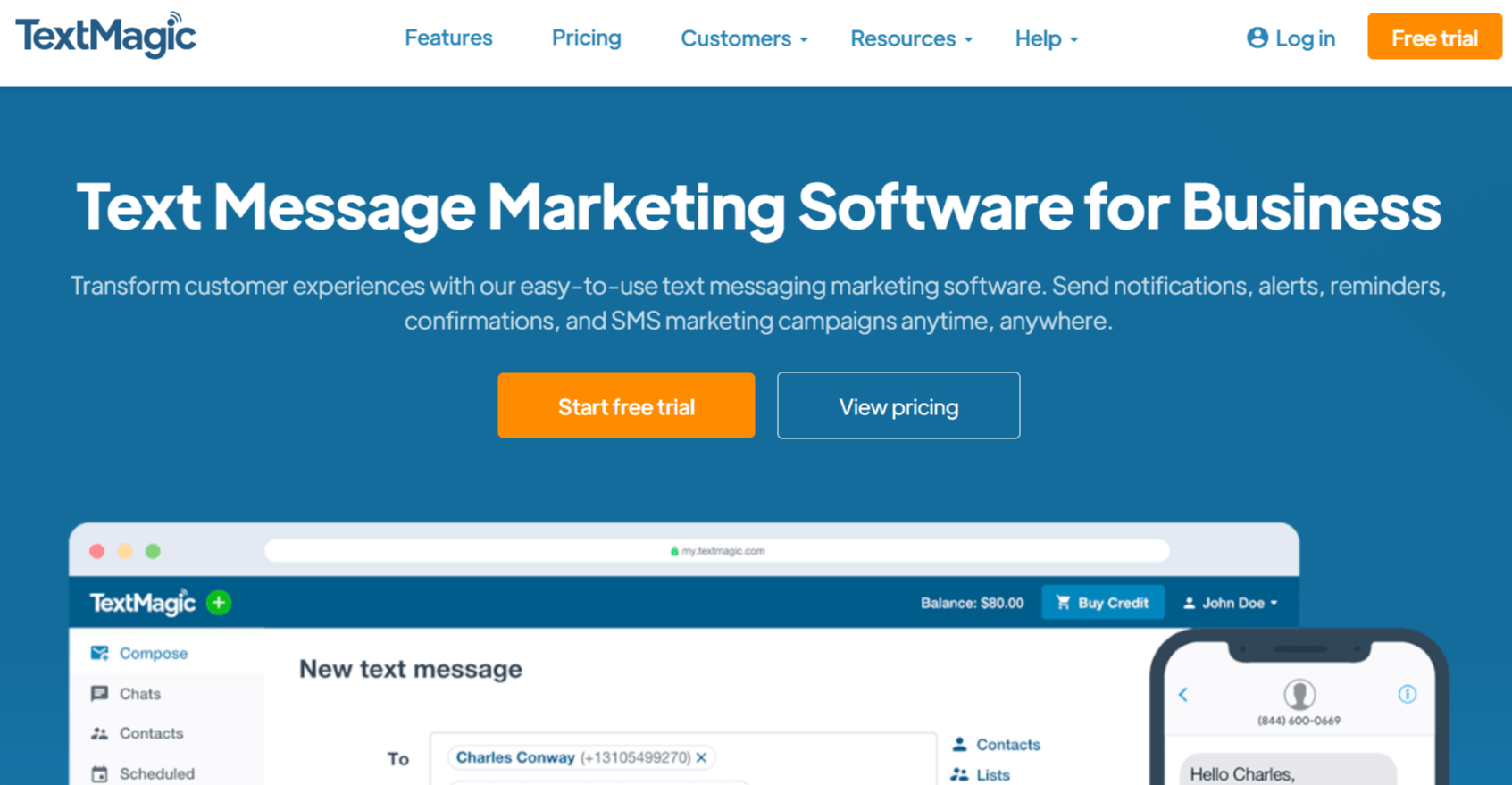 TextMagic is a secure and easy-to-use text messaging service providing 30,000+ companies the option to send notifications, alerts, reminders, confirmations, and SMS marketing campaigns every day. 
Key features
TextMagic has bulk SMS text messaging, automatic replies, and two-way text messaging as top features.
Pricing
Pre-paid plans for as low as $0.049 per message.
G2 rating
4.4 out of 5 stars from 86 reviews. 
What to Look for in a Business SMS Provider
When choosing a business SMS service, it's important to consider the features and functions that align with business requirements. Below are some essential attributes to watch for:
Virtual phone numbers: Virtual phone numbers enable you to transmit and get texts via a local or toll-free line. They are ideal for businesses keen on sustaining a local image or offering clients a toll-free way to reach out.
Collaborative messaging: This feature facilitates several users to send and receive SMS from a collective inbox, ideal for firms looking to encourage collaboration among team members in customer interactions via SMS.
Toll-free texting support: Texting customers from a toll-free business phone number lets customers intuitively call your sales or support line who prefer discussing matters verbally.
Generous text message volumes: A valuable service will grant a generous quota of messages, for instance, 1000 texts for each user every month, catering to businesses with extensive texting needs.
Desktop functionality: This feature facilitates the dispatching and reception of texts from your computer, which is ideal for firms whose teams prefer desktop-based communication.
Mobile functionality: A smartphone app is a must if you want to exchange business text messages through mobile or tablet devices, befitting businesses aiming for flexibility and mobility in communication.
In addition to these critical features, excellent customer support, pricing, and positive customer reviews are vital aspects to consider before settling on a business text messaging tool for your company.
Text Messaging Rules of the Road
Before implementing text messaging into your business protocols, you must ensure you do so in a way that complies with industry best practices and legal requirements. 
Obtain consent: Businesses must gain customers' permission before messaging them from their business phone number. The Telephone Consumer Protection Act dictates marketers must receive express written consent before sending promotional messages to their customers. This encompasses offering an avenue for customers to subscribe and granting them a hassle-free method to unsubscribe if they choose to.
Provide clear opt-out instructions: Every text sent out should have straightforward directions for recipients who want to discontinue the service. A typical instruction could be, "To stop receiving messages, reply with STOP."
Follow data privacy laws: Following data protection regulations is non-negotiable when handling customer details. Check your state or local authority for more information. 
Comply with industry standards: Phone companies and the government have collectively established benchmarks for unsolicited phone calls and text messaging. The Cellular Telecommunications Industry Association (CTIA) and the FCC's Telephone Consumer Protection Act (TCPA) regulate message content, frequency, and dispatch.
By following these legal and industry requirements, businesses can ensure that they are using text messaging responsibly.
Business Text Messaging FAQs
Can I add SMS text messaging to my VoIP phones?
Most VoIP providers don't include or provide text messaging on their phone extensions. However, with its professional and enterprise phone plans, Nextiva includes text messaging from phone extensions as a free feature.
Why do I need permission to send text messages?
The Federal Trade Commission has strict guidelines and penalties for businesses that spam customers with unwanted text messages. Messages and numbers marked as "spammy" also often get blocked or filtered, so before sending a text message, we recommend asking yourself, "Would I mind receiving this?"
What is 10DLC?
10DLC is short for 10-digit Long Code, a type of phone number used for sending and receiving text messages. It is a local or toll-free long-code number that mobile network providers approve for Application to Person (A2P) text messaging.
10DLC numbers allow businesses to send more text messages at a lower cost. Also, because these numbers are pre-approved by mobile network providers, messages sent from 10DLC numbers have a better chance of reaching the recipient than with standard local long codes or short code numbers.
Are there free text messaging services for businesses? 
Yes, several free text messaging services are available for businesses, such as Google Voice, TextNow, and TextFree. 
However, these services have limitations on the number of messages you can send, deliverability issues, and are restrictive in the features they offer. Most importantly, these free virtual phone numbers are often reassigned and are blocked from text message (SMS) verification services.