Argentina elects chainsaw-wielding outsider Javier Milei as president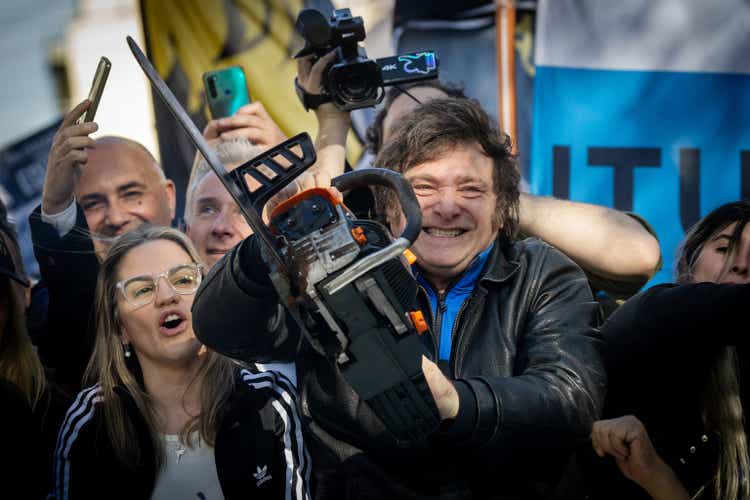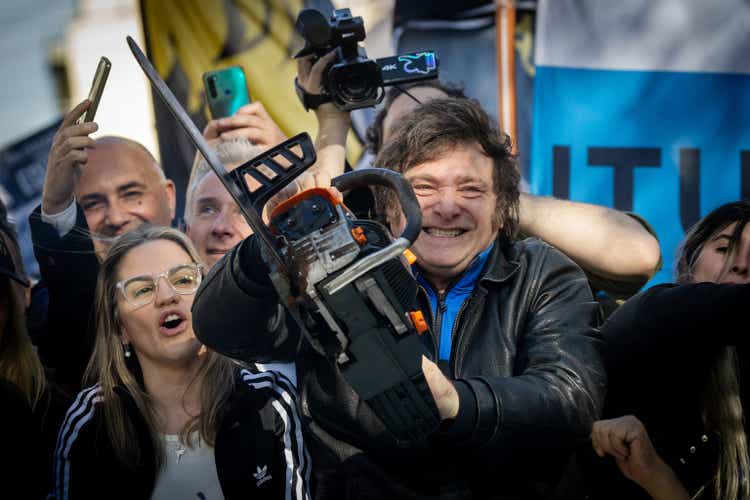 Libertarian outsider Javier Milei won Argentina's presidential election on Sunday, vowing to begin a "drastic" shakeup of the government at a time when the economy has been struggling under triple-digit inflation and growing poverty.
Milei won 55.7% of the vote, defeating his opponent Economy Minister Sergio Massa, who won 44% of the vote. Milei will take over on Dec. 10.
"The changes our country needs are drastic," said Milei, who has often held up a chainsaw at rallies to symbolize his intent on slashing state spending. "There is no room for lukewarm measures."
Inflation in Argentina is nearing 150%, while its currency (ARS:USD) has declined ~90% over the past five years and the poverty rate has reached 40%. Argentina also faces external debt payments of $22B next year, even as its coffers are in the red.
This is because the incumbent interventionist government, as with previous regimes, resorted to printing more money to finance spending, fueling inflation.
Milei has vowed to slash government spending, dollarize the economy, and eliminate the central bank along with key ministries such as health and education.
"While we have a particular aversion to ideologically driven politicians like Milei, our practical disposition of looking at Argentinean figures points to a pretty firm conclusion: what they have been doing so far isn't working, it's time for something else," said SA analyst Shareholders Unite.
More on Argentina