20+ Call Center Features You Should Look For
When you're scoping out a new call center, there comes a time when you just need an in-depth list of features available. Perhaps you're looking into call center software and want to know which features actually matter most to your team. 
So, let's cut to the chase.
We've listed the best call center features you need to be aware of when planning to buy your next call center solution.
Read on for our top 23!
1. Computer Telephony Integration (CTI)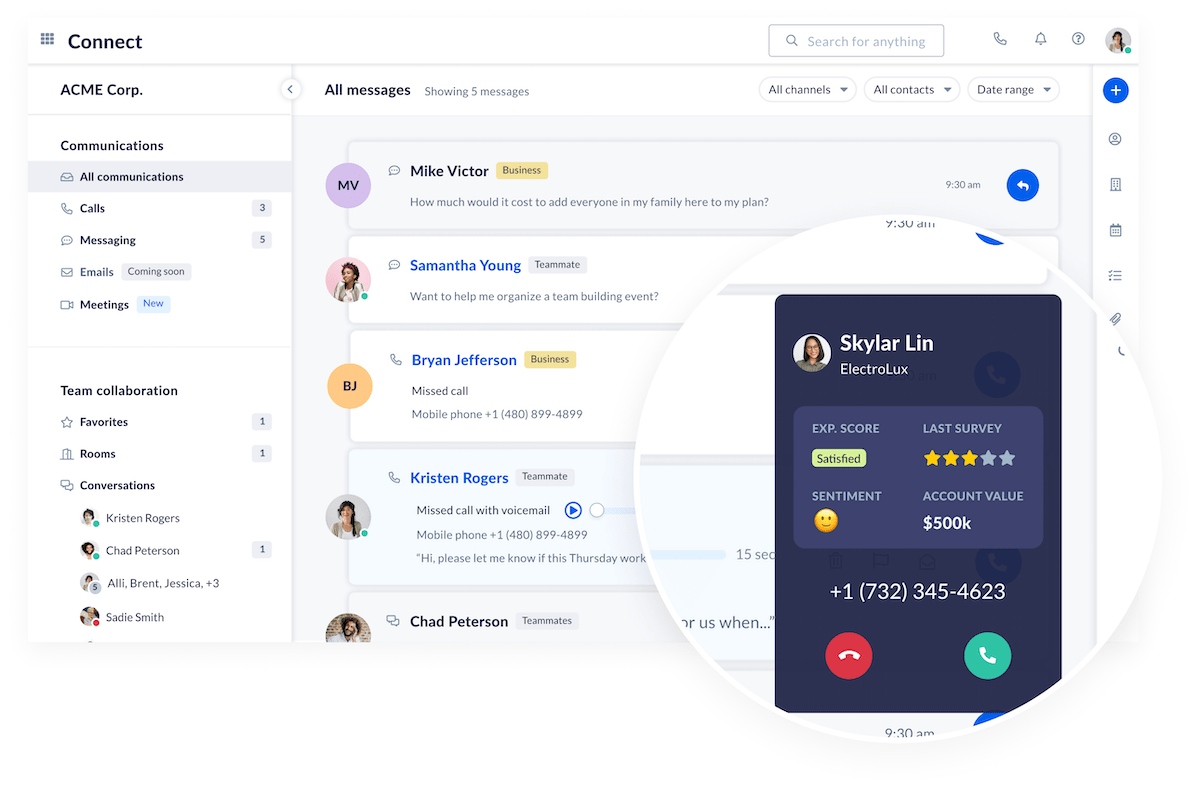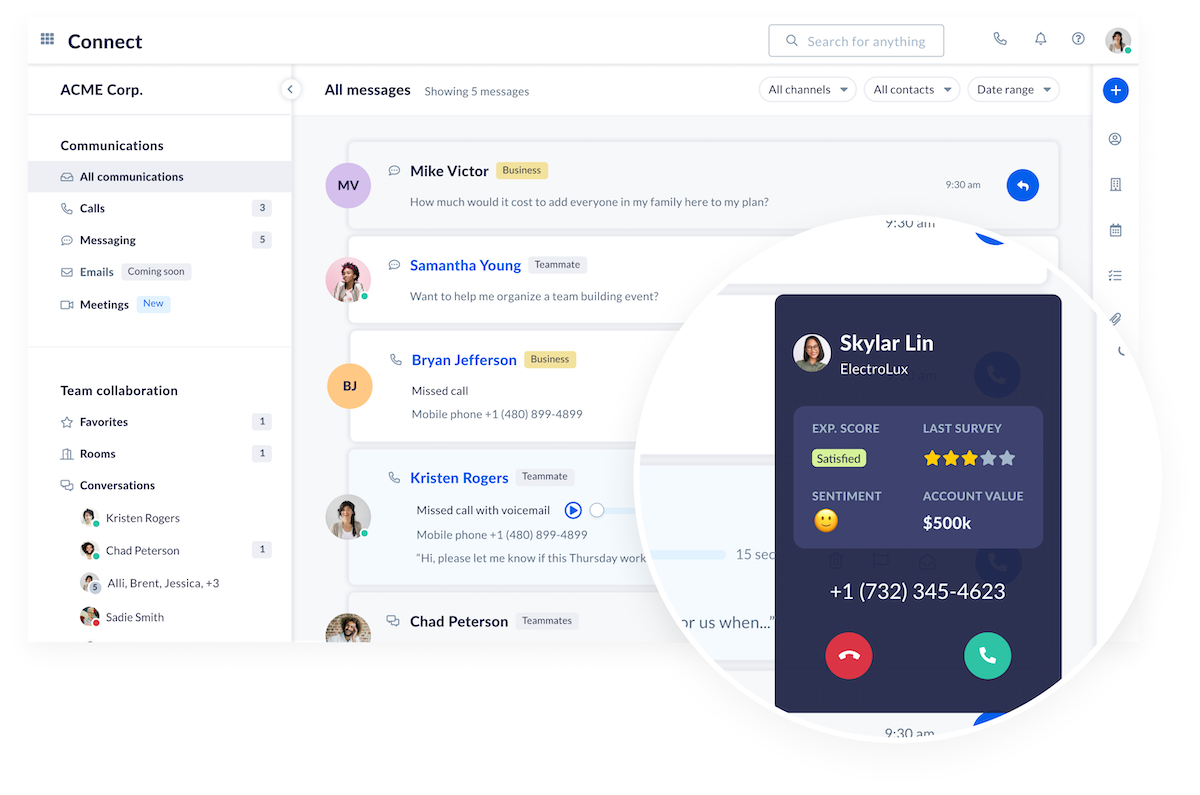 When a customer calls you, it pays to have all their information on hand.
CTI is the technology that links your computer and phone to bring you features like screen pop, click-to-call, and CRM integration.
When you enable CTI, expect the following functionality and benefits:
Screen pops: give agents details about who's calling and self-service attempts.
Call routing: ensures every call gets to the desired destination.
CRM integration: ties the enhanced phone and computer experience into your CRM.
Call management: lets agents accept, reject, mute, and place calls on hold.
2. Interactive Voice Response (IVR) System
When you hear, "Press one for sales or two for support," that's an IVR in action. 
It's the gateway into your business for callers. 
With customizable call menus, customers choose their reason for calling and get routed to a relevant, skilled agent. This removes the need for constant explanation and passing around of customers.
A smart IVR even comes with voice recognition capabilities that make it easier for your customers to get through to the right department.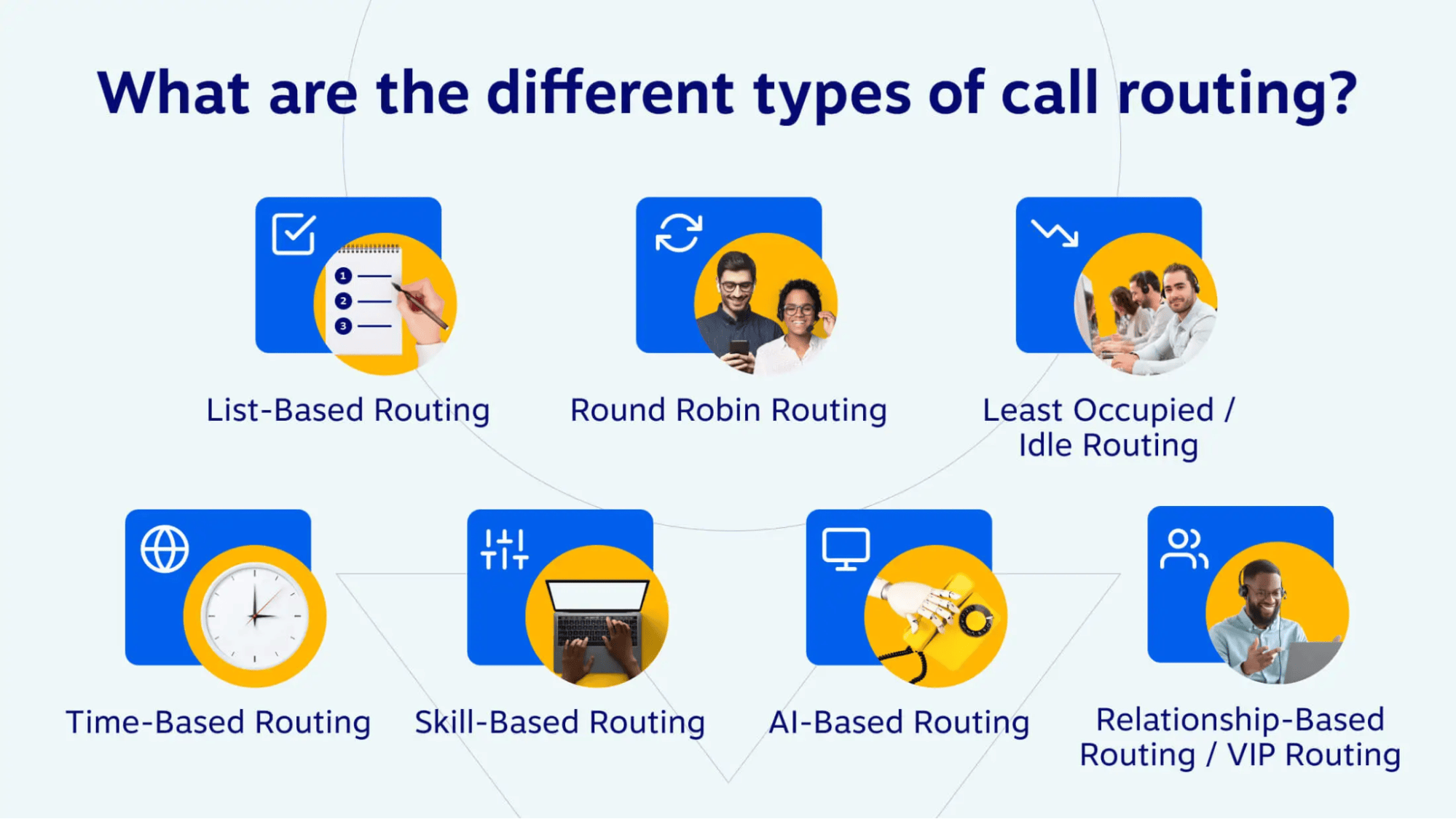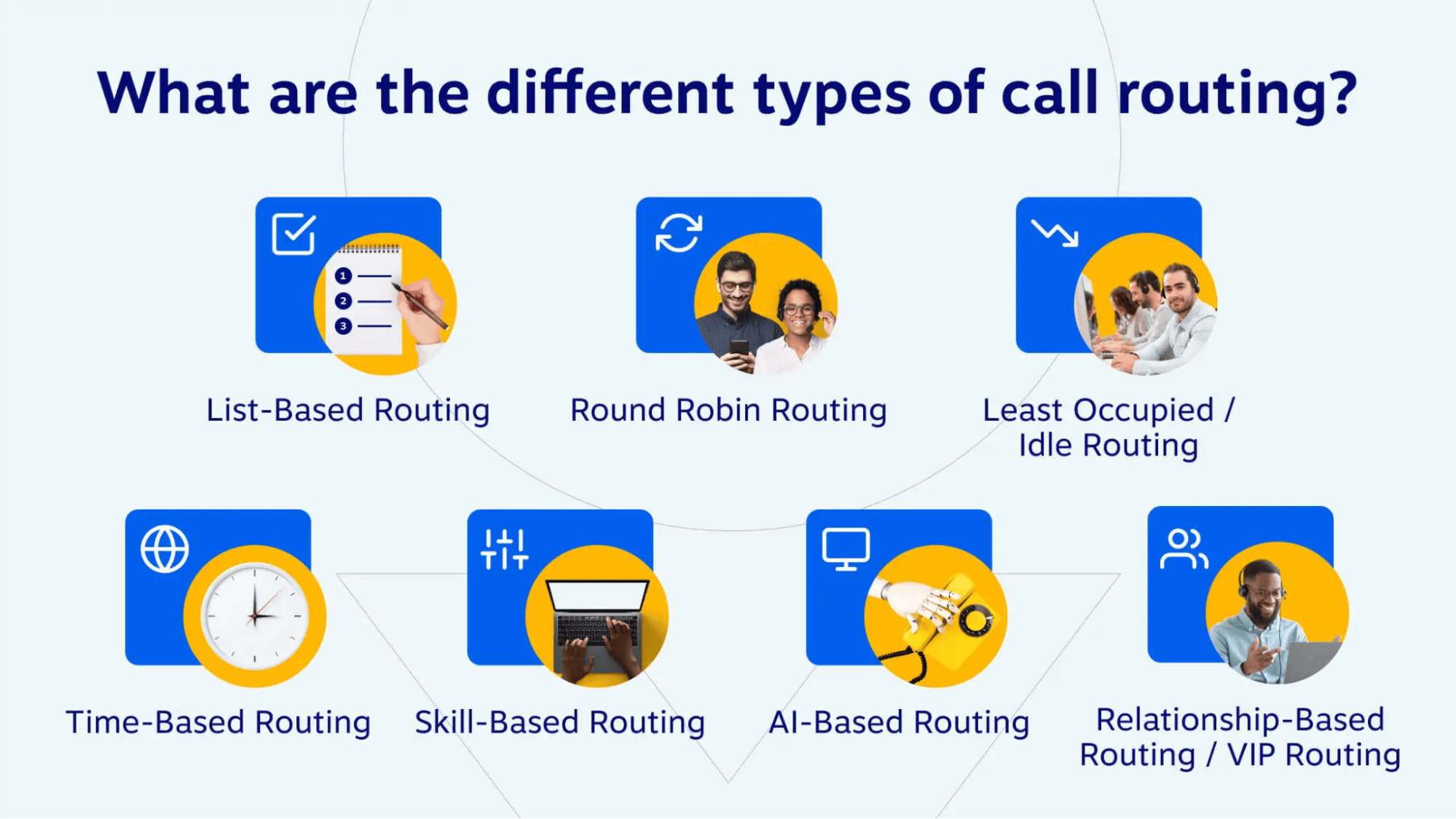 Customers can say, "I have a query on my December invoice," and get routed straight to the billing team. There's no need to hang around for the right option.
If you use chatbots in your omnichannel contact center or run a website that you want to use chatbots on, you can build in IVR technology there too.
Here, we're talking about intelligent virtual agents (IVAs). Your basic chatbot only responds with pre-loaded information. An IVA, on the other hand, uses natural language processing to simulate human conversation and provide helpful answers.  
IVAs can answer basic queries like, "How much was my last bill?" or "What time does the Arizona store close?" but also route complex queries through to agents with specialized training in the matter at hand.
3. Automatic Call Distribution (ACD)
ACD is intelligent call routing to the most appropriate agent or department, every single time.
With automatic call distribution, you can distribute phone calls based on caller ID, business hours, customer support level, and IVR selections. 
As a result, inbound calls reach the right agent or department quickly and without the caller having to dial a different phone number.
If balancing calls between agents is your priority, you can choose to send the next call to the agent who's taken the least calls that day.
Sound a little like IVR?
It is. But IVR focuses on getting the customer to the right place, whereas ACD focuses on directing calls to available agents.
If agent balance is your priority, look into ACD. If customer experience is your priority, go for IVR.
Or, for a perfect balance, implement both!
4. Unified Communications Integration


Unified communications (or UCaaS) is the solution that looks after your calls, messaging, and video. 
When you use these communication channels throughout the rest of your business, you need your call center agents to have access to the same.
What's more, you need a streamlined approach for those agents to have constant access between the front and back offices.
With 59% of customers saying they'll end the relationship if getting help requires too much effort, you must ensure your call center solution integrates with your unified communications solution to streamline collaboration between agents and specialists.
Vendors like Nextiva provide a single platform for both unified communications and call centers, meaning a consistent experience and easy access for all users and agents.
Benefits:
Lower average handle times
Higher first-call resolution rates
Higher net promoter scores
Higher customer satisfaction scores
📖 Read the full whitepaper: UCaaS + CCaaS: Never Compromise the Customer Experience
5. Call Monitoring and Recording
When you monitor and record calls, you open the door to continuous improvement — of both your agents and your processes.
There are two types of call monitoring: 
Real-time monitoring: providing on-the-spot coaching and interjection.
After-the-fact monitoring: reviewing call recordings to see where things went wrong.
Use these in conjunction to create both a reactive and proactive quality assurance program for agents. You can fight fires on the fly while also creating a formal review program for random or selected calls and agents.
All calls get recorded and securely stored in a cloud-based environment for easy retrieval. You can download the files locally if compliance or regulation requirements dictate so.
Nextiva's call recordings comply with HIPAA, CCPA, PCI, and other industry standards. 
6. Predictive Dialer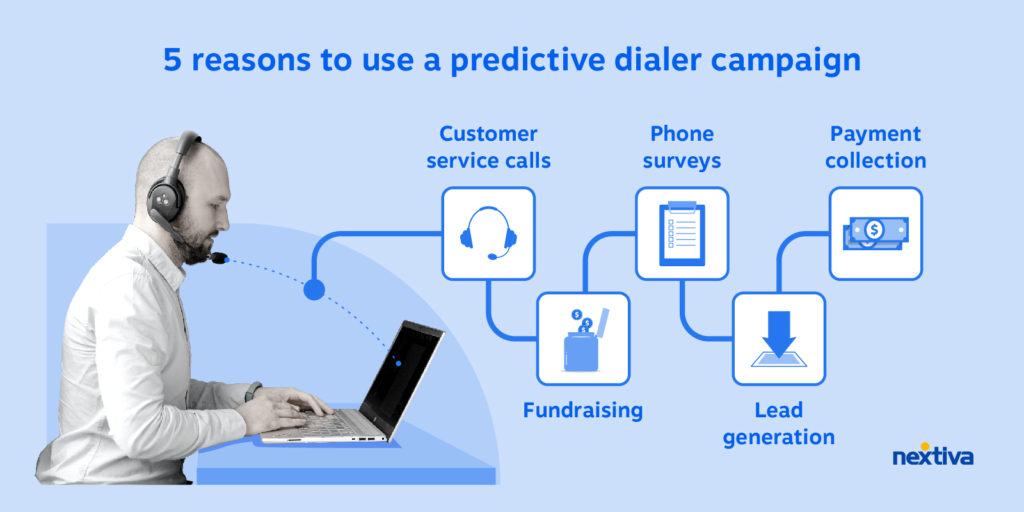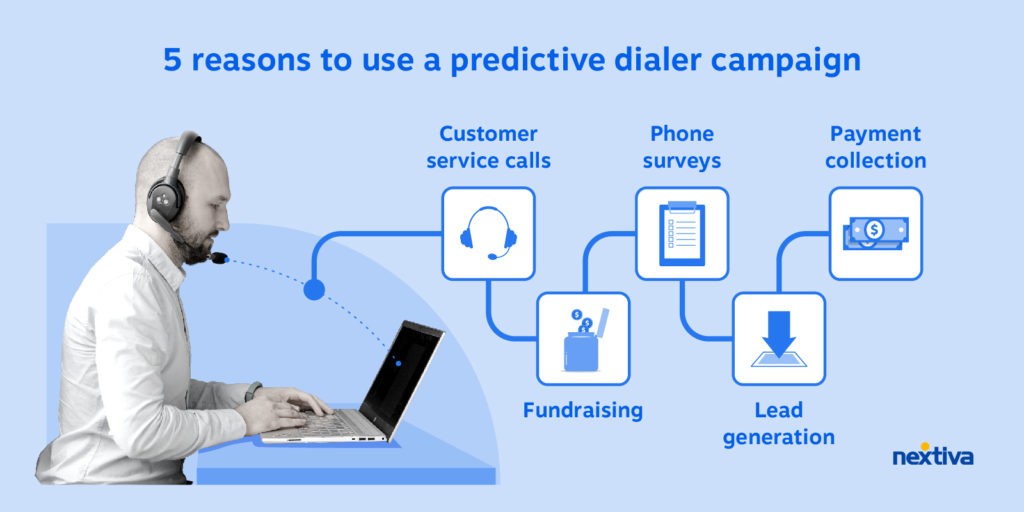 If you run an outbound call center, or have outbound sales or account management teams, you can benefit from automated outbound calling proven to increase agent talk time and productivity. 
Using pre-configured algorithms, agents no longer need to find and dial numbers to make outbound calls.
Instead, a predictive dialer does the legwork to ensure agents have another call in the queue after completing their current call. 
No time wasted and less chance of failed call attempts.
Predictive dialers are great in these cases:
Proactive customer service
Lead generation
Collecting customer feedback
Appointment setting
Correcting billing issues
Scheduled follow-up calls
7. Inbound & Outbound Phone Calls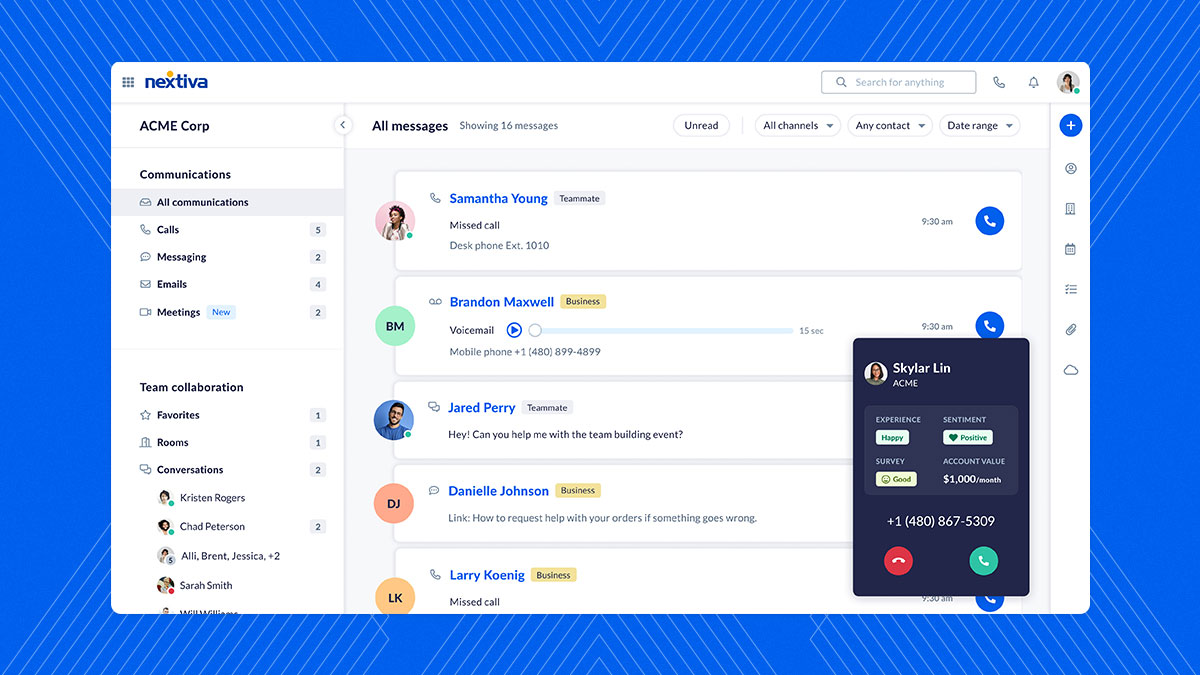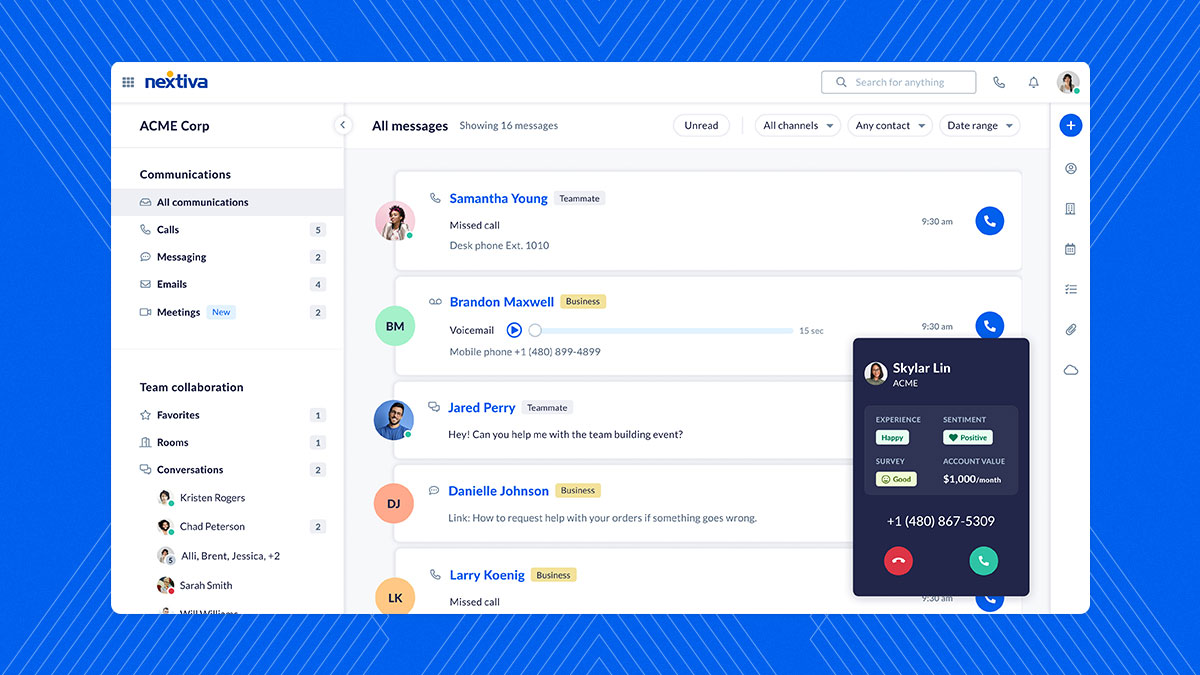 When you're making and receiving calls all day, your customers expect to hear you well. Being accessible to customers via the public switched telephone network (PSTN) is core to every call center.
A VoIP phone system underpinning your calls guarantees high-quality voice calls over the internet. You can attach a physical handset or a softphone with a headset to your VoIP connection and start making HD calls quickly.
Another major benefit of using VoIP is you save money on calls compared to traditional telephony.
For example, the VoIP phone service from Nextiva comes with the following:
Unlimited voice and video calls
Voicemail to email delivery
Complimentary toll-free number
Outlook/Google Contacts integration
Unlimited internet faxing
99.99% uptime and reliability
8. Softphone App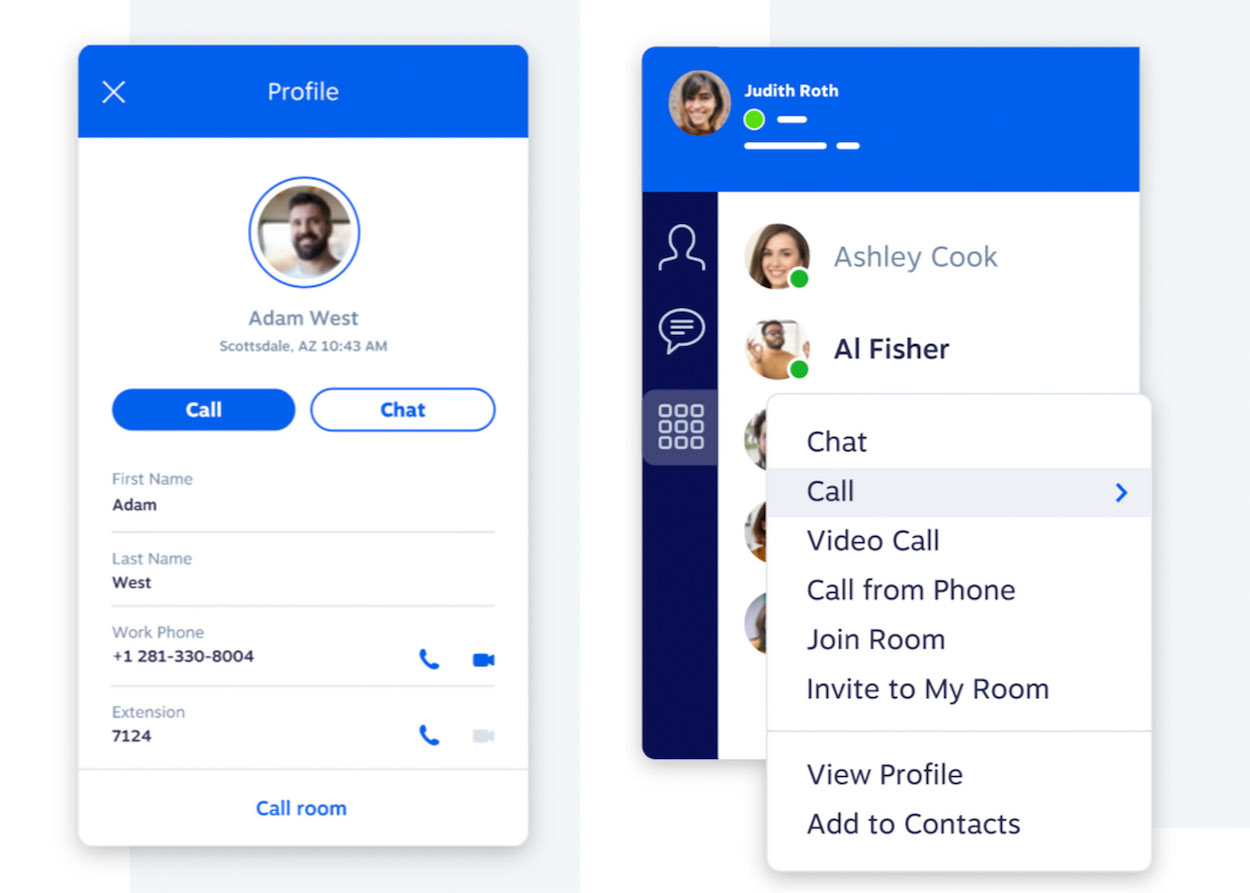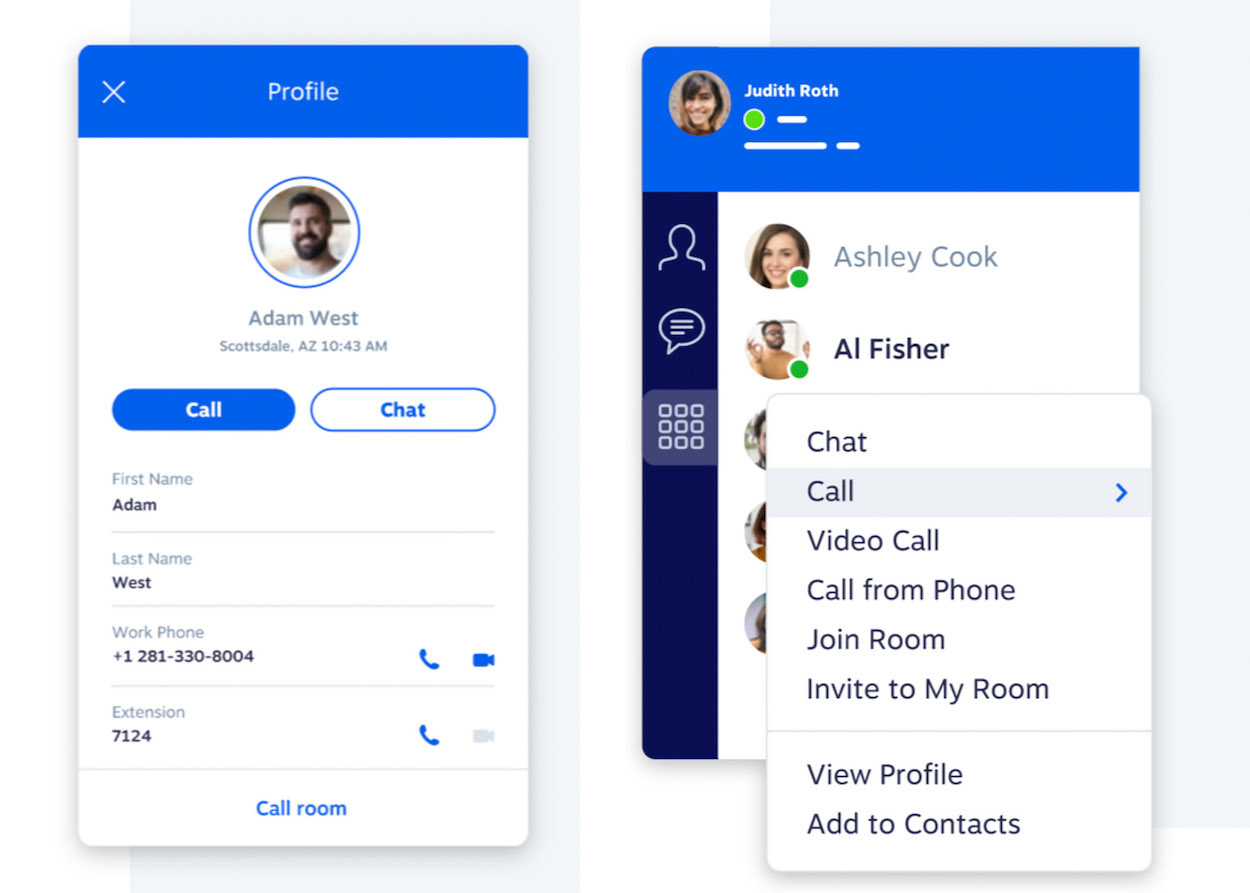 When agents work from home or need to log into call queues between offices, softphones give them access from anywhere.
Inside your softphone app, be it on a computer or mobile, agents can make and receive calls and access their internal colleagues too.
They can get real-time notifications as if sitting at their desks and have the same functionality as if they were at their workstations.
9. Post-Call Surveys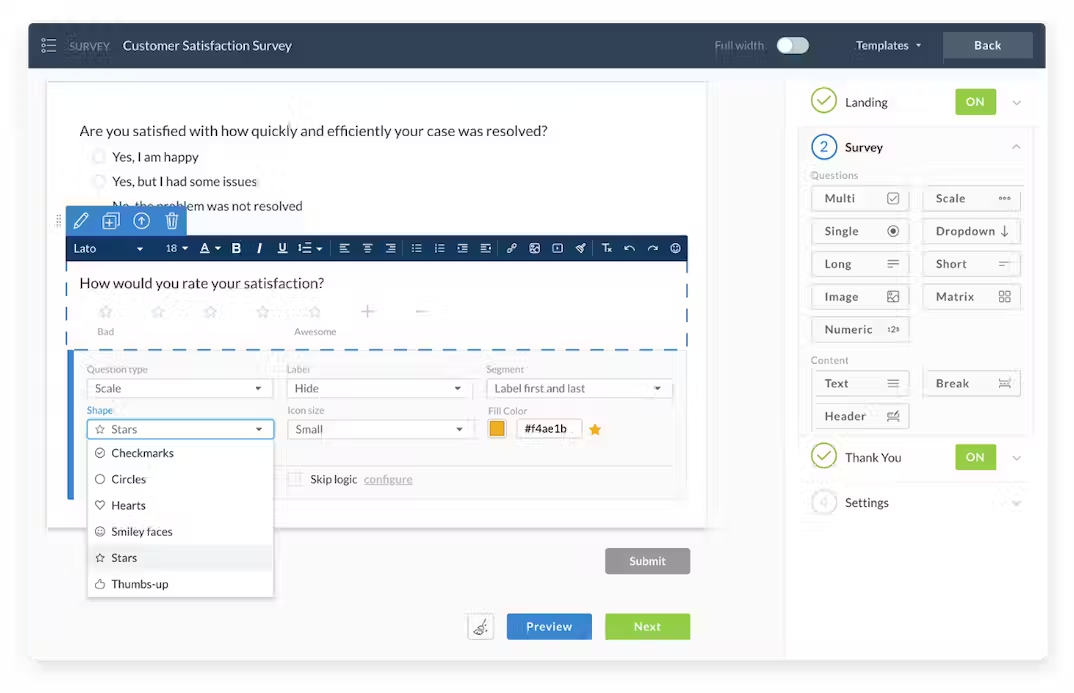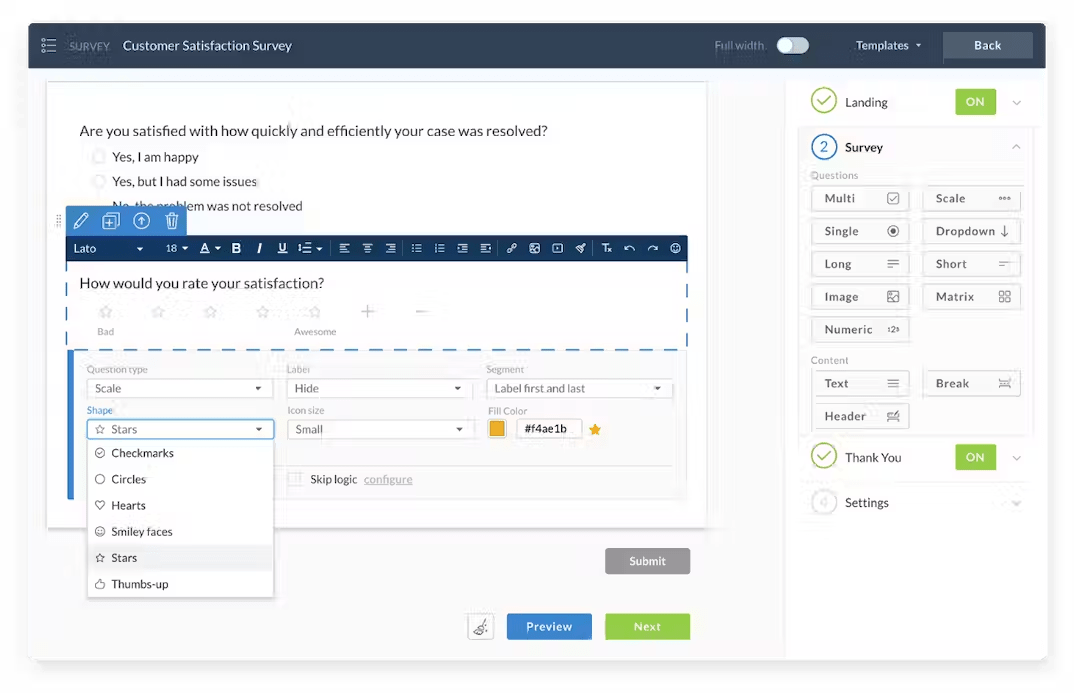 What's 100x better than assuming your customer had a good call?
Getting immediate feedback.
Using customer experience software, you can create and automatically send surveys that rate agent performance and call satisfaction.
When you capture data like this, you can feed it into training and performance programs, encouraging continuous improvement.
Ask questions like:
On a scale of 1–10, how would you rate your call?
On a scale of 1–10, how satisfied are you with the outcome of your call?
Did the agent resolve your issue?
10. Virtual Queuing
During busy periods, customers get frustrated waiting in long queues.
Instead, you can allow customers to keep their position in a queue without staying on the line.
Unlike a regular call queue, where customers wait on hold until an agent becomes available, a virtual queue saves their position, allows them to hang up, and notifies customers when their turn approaches.
This both reduces hold times and improves the customer experience. 
At the end of the day, we're all customers at some point. Given the choice, wouldn't you rather someone held your place too?
11. Escalation Management


When a customer interaction gets heated, escalation to a higher-level agent or department is needed.
Documenting a clear escalation path is paramount for timely escalation handling and resolution, as is enabling agents to be proactive.
When something goes wrong, ensure your call center software empowers agents to flag and transfer calls before they get out of hand.
Reacting at the right time will always result in higher customer trust and satisfaction. Failure to allow agents to self-escalate can only have a negative impact.
12. Whisper and Barge-In Features


When you get the feeling an agent needs help, or if an agent flags their need for help, the ability to coach them through the situation is one of the most powerful call center features.
During live calls, supervisors can join and "whisper." This means the agent hears the coaching, but the caller is unaware anyone else has joined.
If the situation isn't being diffused, supervisors also have the choice to intervene and take over (barge in) the call.
Not only is the situation remedied but agents also learn on the spot and know what to do next time around.
13. Self-Service Portals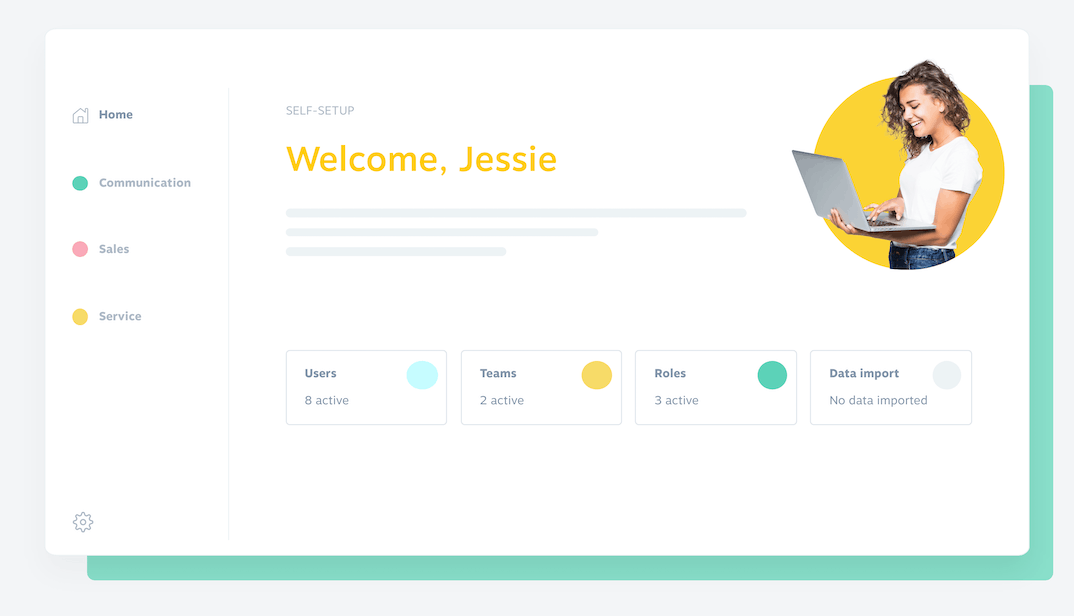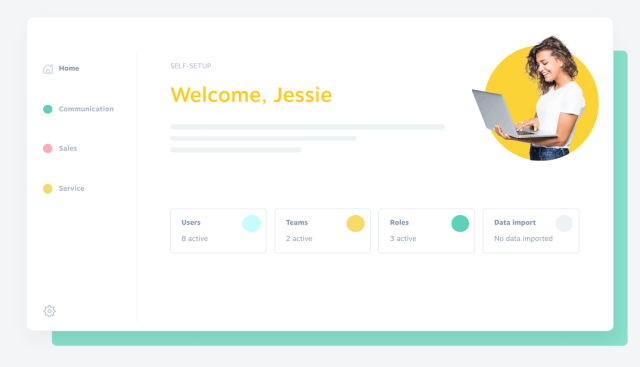 If you have queries that occur time and again, why not move them to a self-service portal where customers can get answers themselves?
By granting access to FAQs, knowledge bases, and troubleshooting guides, you reduce agent call volumes and improve customer satisfaction.
Use a self-service portal to let customers access information like:
Billing and invoicing
Service status updates
Progress of support cases
Progress of orders
Delivery statuses
14. Skills-Based Routing
Skills-based routing is a system that matches customer issues with specialist agents. 
It allows you to rank your agents based on their abilities. You can then rank incoming calls by specific skills, which are listed per queue. Your call center software routes calls to agents who are ranked higher in those skills.
The end result?
Customers get through to an agent qualified to answer their particular questions.
What if the best-matched agent is busy on another call?
Dynamic rerouting happens automatically, so you can always ensure that customers are being served by the best possible agent at any given time, improving first-call resolution rates and customer satisfaction.
15. AI Assistance
When there's the opportunity to make a process more efficient, you must grab it with both hands.
With artificial intelligence (AI) assistance, like that of IVAs, you can automate responses to common queries like:
When does my nearest store close?
When can I expect my order to arrive?
Is there any update on my support ticket?
AI can take care of the menial and repetitive tasks so agents can spend more time providing human value.
If AI can't fully satisfy a customer query, its machine learning technology knows when to hand things off to live agents.
Learning with every customer interaction, AI is constantly getting better and more personalized when serving your customers. The more customer information you have, the better the customer experience.
16. Quality Management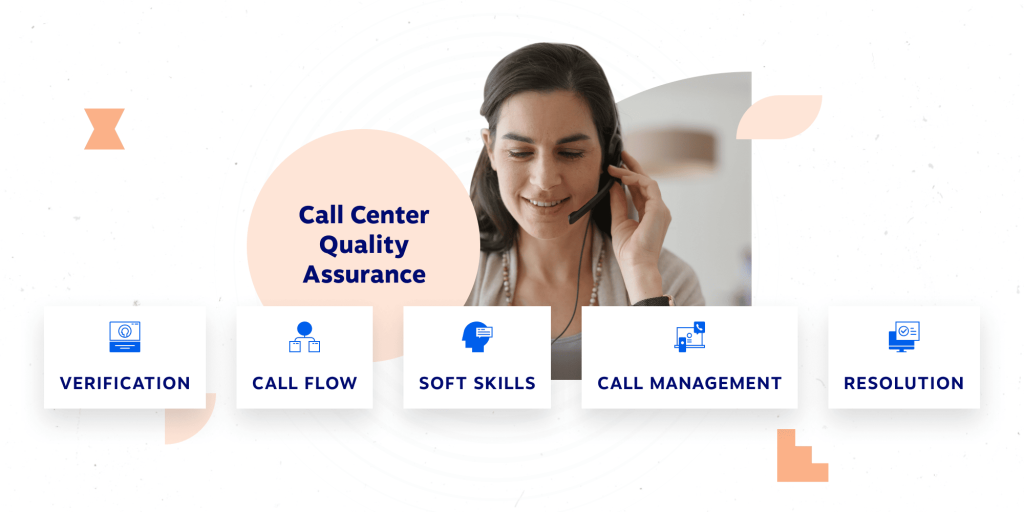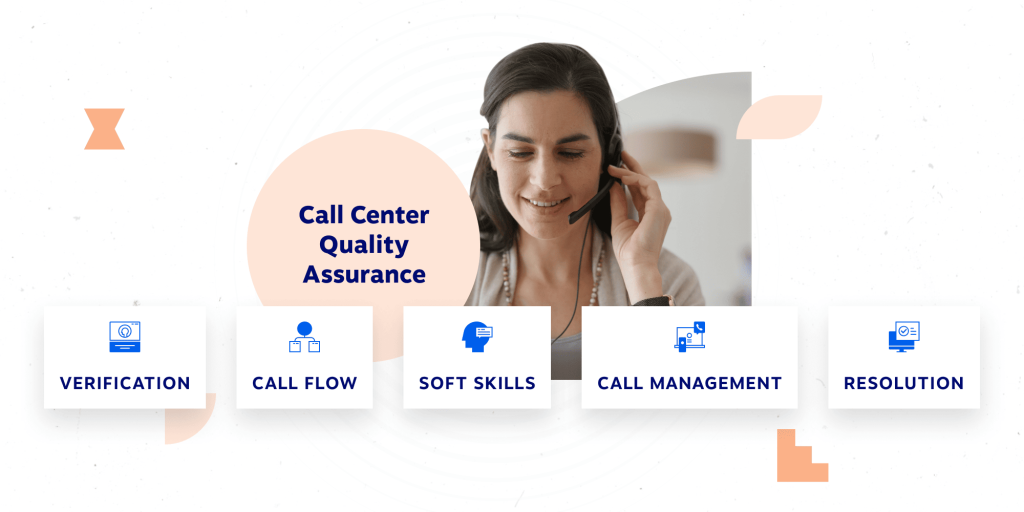 What gets measured gets managed.
By using call scoring and evaluation tools for your call center, you can create a quality benchmark that all agents should strive for.
Quality management incorporates feedback tools for agents so supervisors can pick or randomly get assigned calls to run through preset criteria.
Typical quality management scoring includes the following criteria:
Completes identity and verification
Follows script
Is polite and courteous
Practices active listening
Provides a viable solution
Asks if they can help further
Scorers then have the option to add comments about intangible factors if an agent has done particularly well or missed a key item.
You can give this feedback one-on-one or include it in continuous training and development modules.
17. Real-Time Analytics and Reporting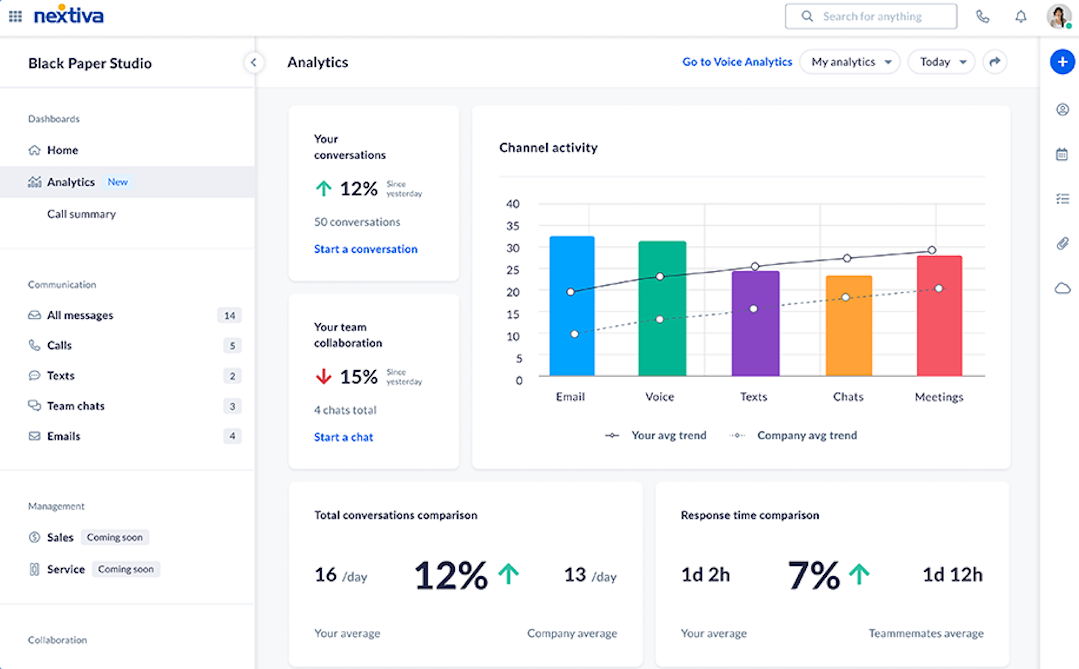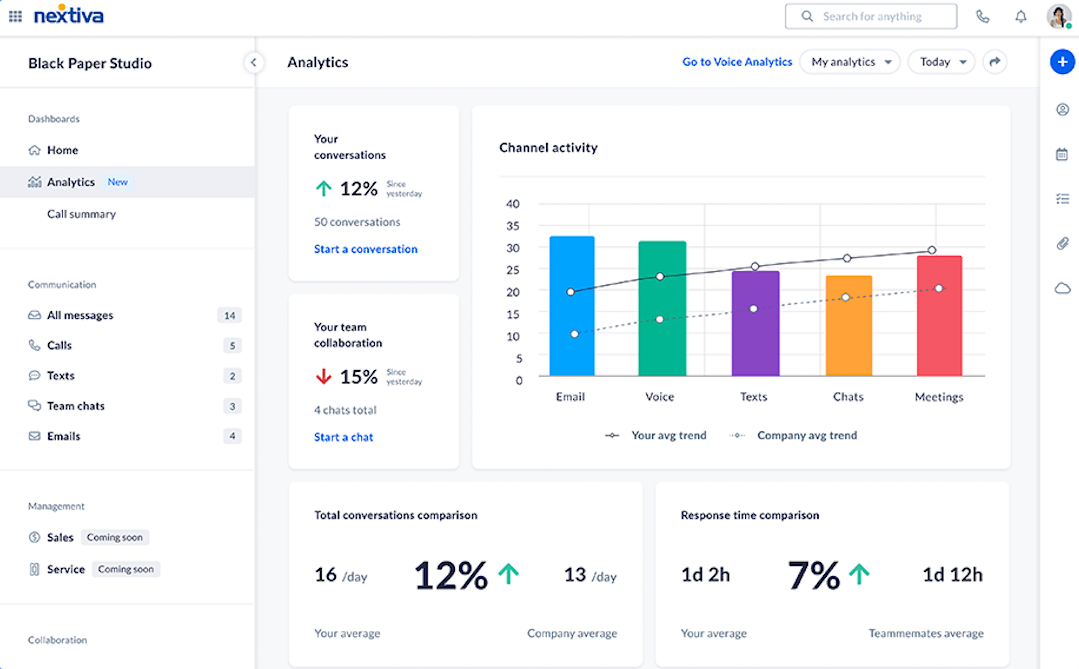 When you subscribe to top-grade call center software, you get access to dashboards with live metrics as well as detailed reports on performance and call outcomes.
Real-time metrics include:
Call volume
Average wait time
Average handle time
Average time in queue
Average speed of answer
These are your during-the-day metrics that managers and supervisors need to know so they can make changes on the fly.
Post-call reporting includes:
Trend analysis for continuous improvement
First-call resolution rates
Number of repeat callers
Customer satisfaction scores
Customer journey mapping
Forecasting accuracy
These are the high-level metrics that inform call center strategy and operations.
18. APIs and Integration Capabilities
If your call center is the beating heart of your customer service operation, think about how important these other components are too:
CRM
Emails
Knowledge bases
Ticking systems
Through the use of open APIs and customizable workflows, you can link your business systems with your call center.
This not only streamlines usage by reducing the number of clicks between apps, but it also enhances functionality through plugins and extensions.
One common example is Salesforce integration. When you combine your phone system or call center with Salesforce, you open the door to essential features like:
Call logging
Screen pop
Click-to-call
Task management
Integrated dialer
These all help to provide a more productive environment with less need to switch between apps.
19. Text-to-Speech and Voice Recognition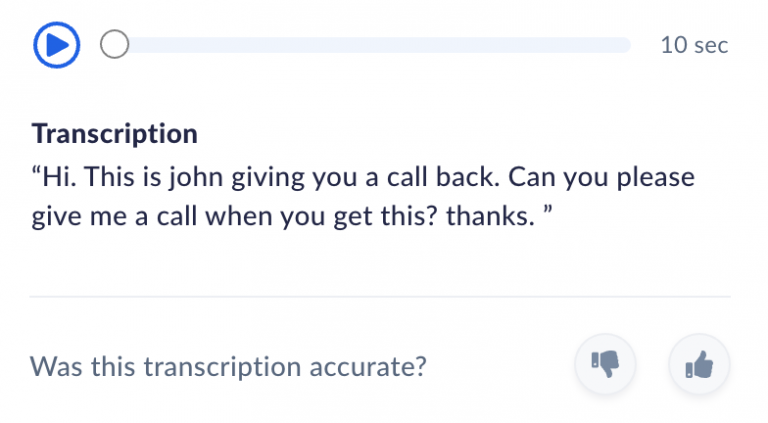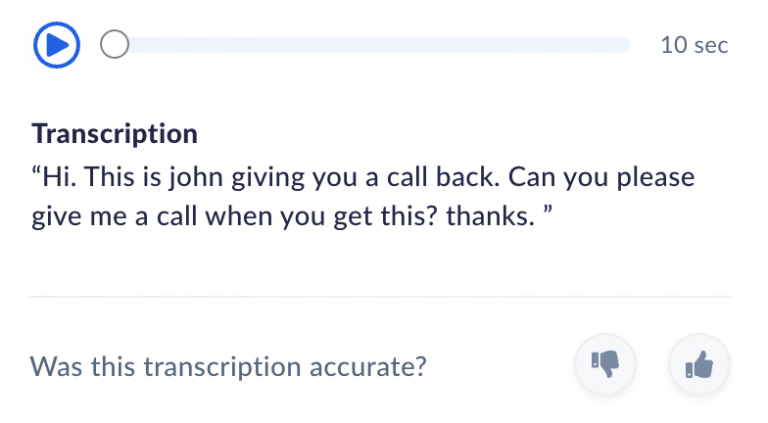 If a customer sends you a text message, by error or on purpose, have your phone system read out the message to agents so you never miss a query.
For customers who have difficulty speaking, text-to-speech provides an alternative to writing an email and waiting days for a response.
You can use the same technology in reverse, too. Give your customers the option to say why they're calling, allowing them to explain in more detail rather than simply, "option one for support."
Instead, they can say what type of support they need and navigate to the most suitable agent.
The Nextiva Advanced IVR includes a comprehensive applications library that integrates speech recognition with:
Voice commands 
Text-to-speech
Voice biometrics
When used to their potential, you can increase productivity, streamline processes, and improve customer satisfaction, which increases your bottom line.
20. Speech Analytics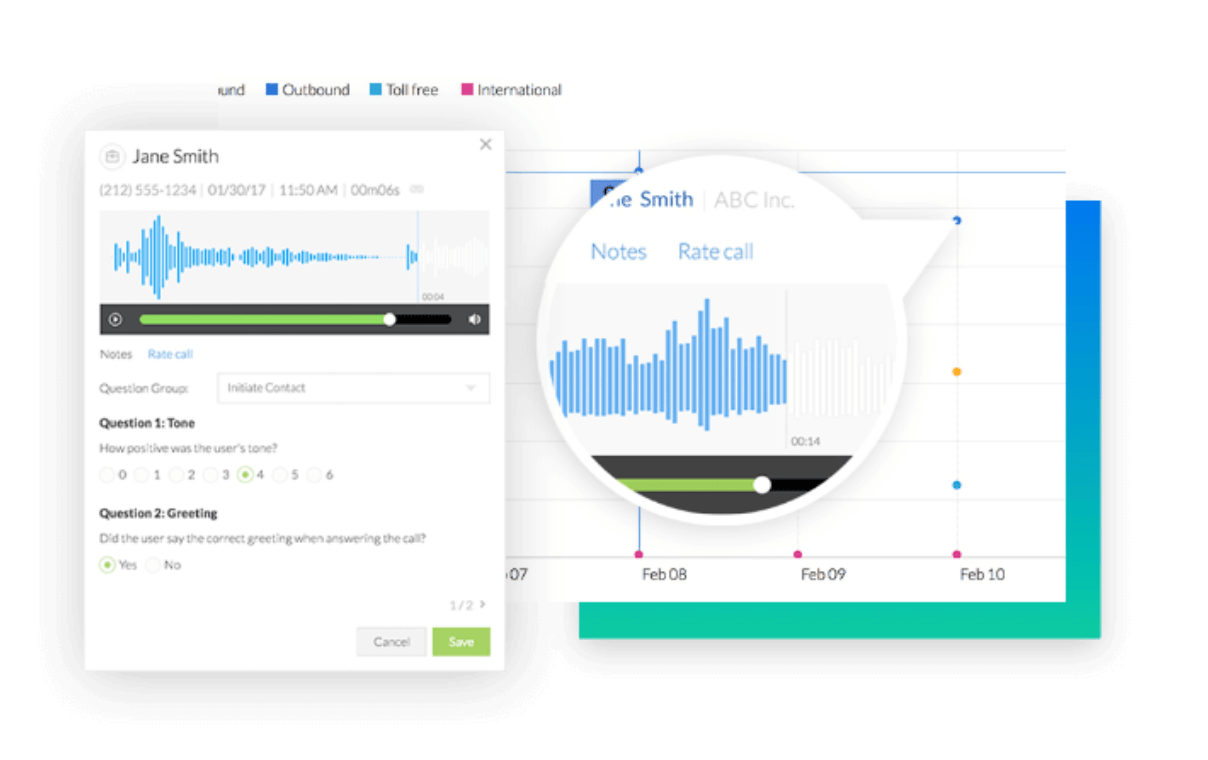 One of the more advanced call center features gaining rapid adoption momentum is speech analytics. It involves using AI to sift through voice interactions and find keywords and sentiments inside conversations.
If customers use expletives or there are long pauses, speech analytics detects these and informs a supervisor. When calls get flagged, you can identify areas of improvement or training needs. 
For example, agents might be skipping key components of your script, like informing customers their calls are being recorded. 
Let technology find the problems so you can focus on solving them.
21. Customer Callback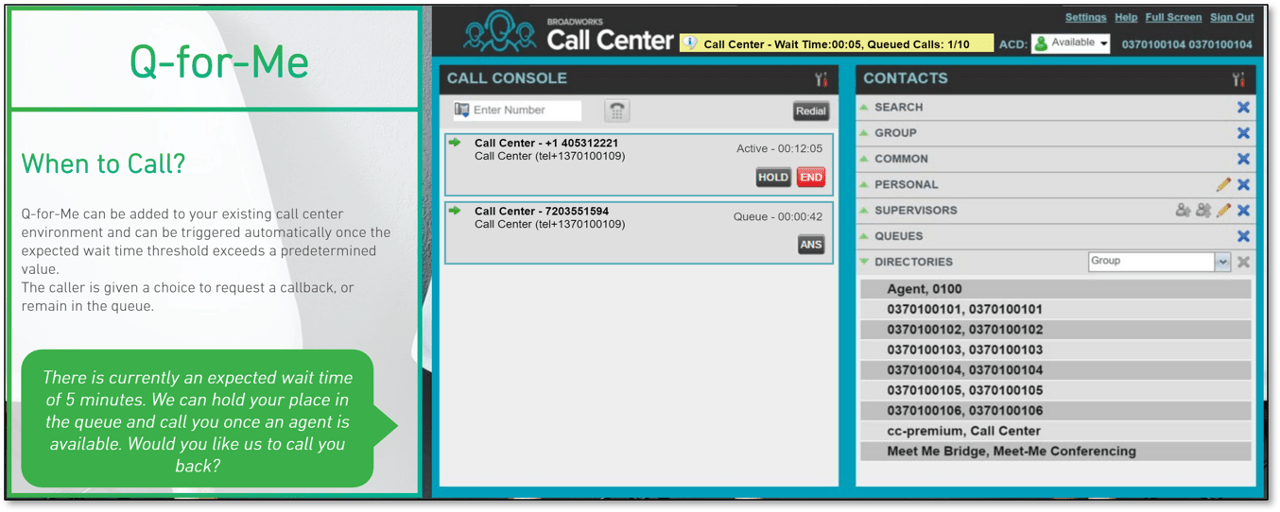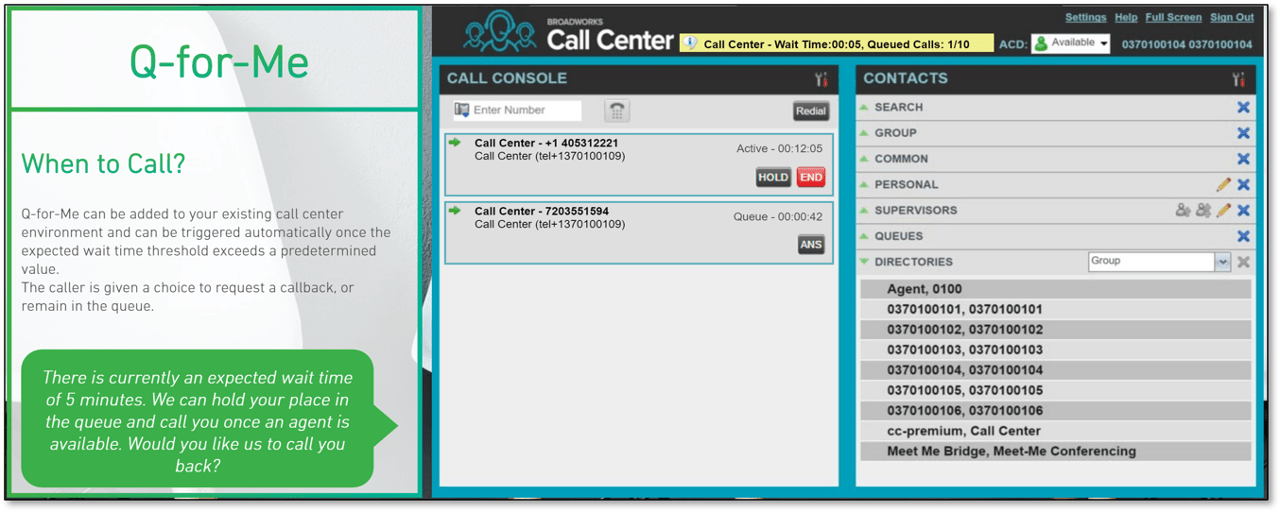 There's nothing worse than waiting on hold. In fact, 66% of people say more than two minutes of hold time is too long.
Luckily, there's a call center feature to combat exactly that.
Customer callback allows customers to request a callback instead of waiting on hold. They select that they'd like to do so, hang up, and then get a call back when the next agent becomes available.
Less time on hold = happier customers.
22. Auto Attendant
An auto attendant is like your virtual receptionist — only you don't need to spend money on extra staffing resources.
Its most basic function is directing callers to the appropriate department or individual. But it also offers customizable greetings and menu options for a humanized caller experience.
Not only do customers love the personalized menu, but your business also benefits from the efficient handling of high call volumes. Likewise, customers prefer auto attendants to the alternative: multiple call transfers and excessive hold times.
23. Workforce Management (WFM)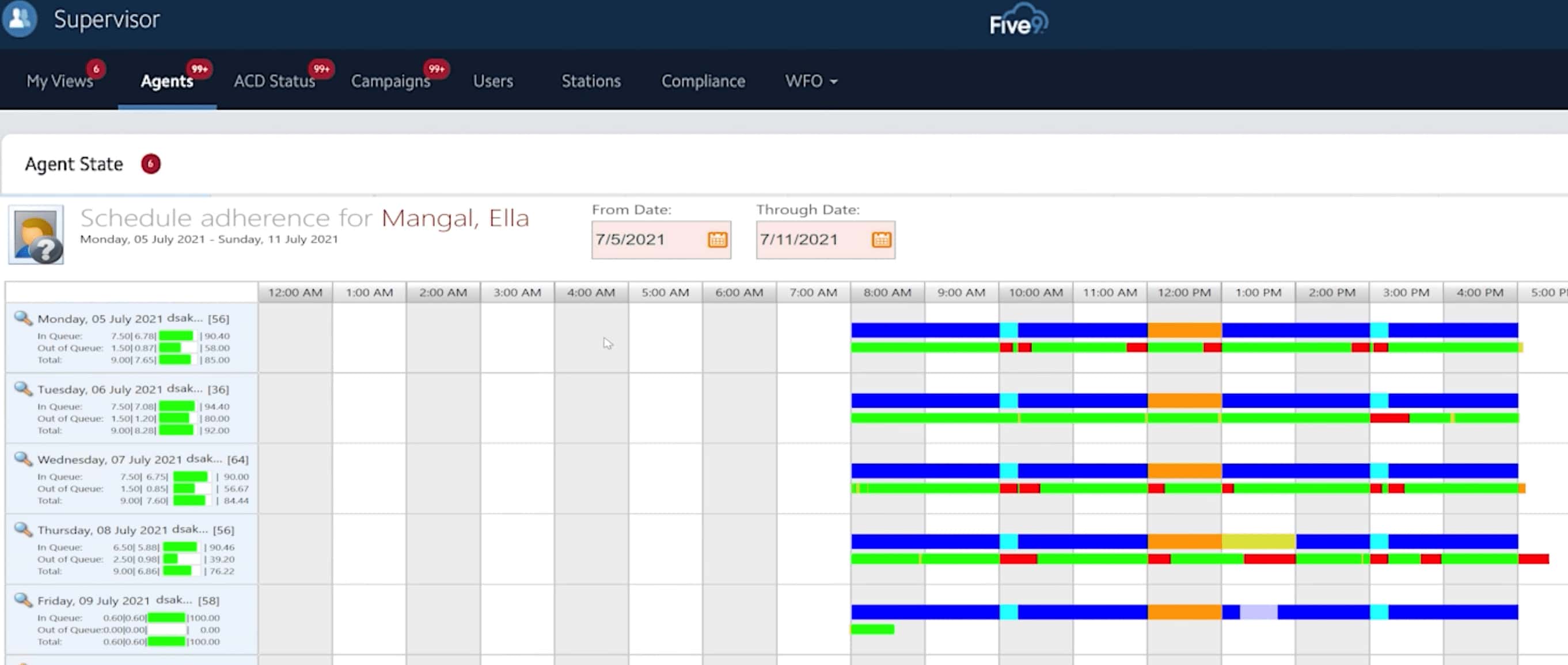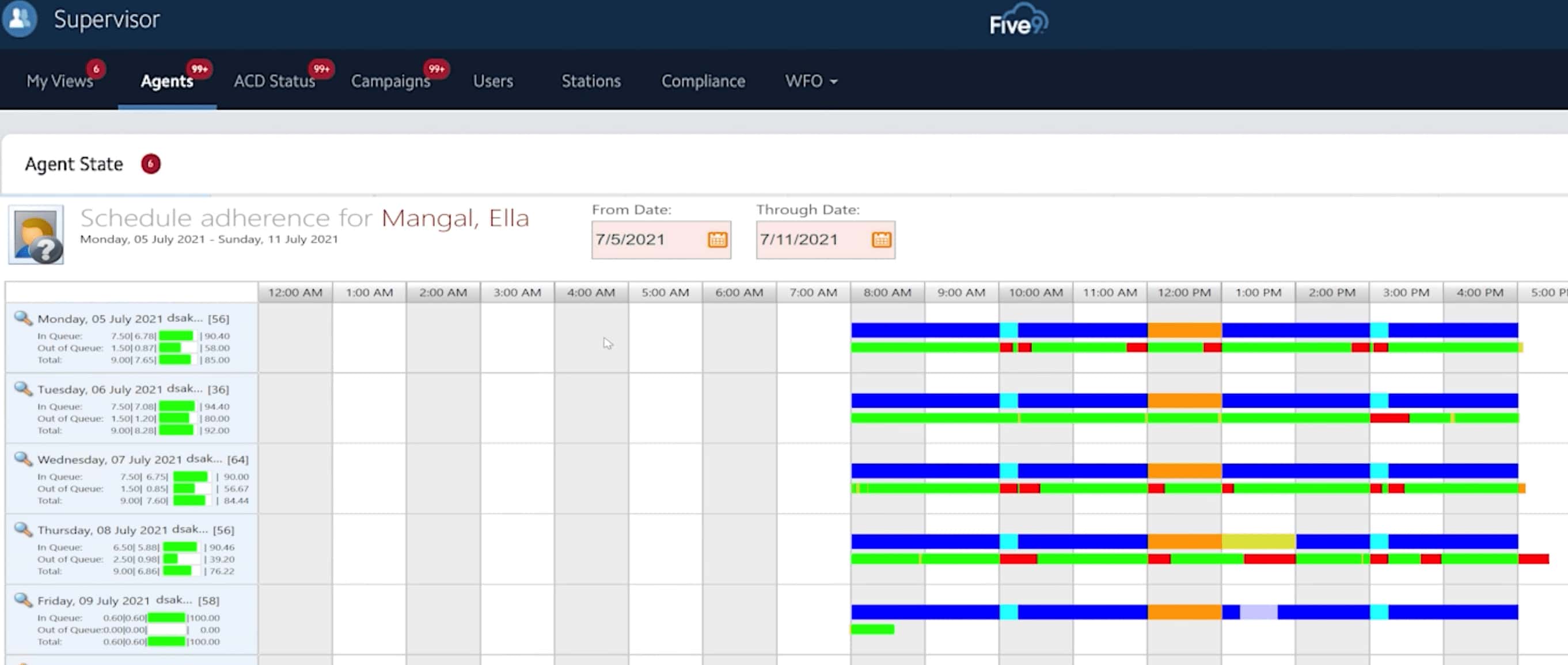 Workforce management (WFM) ensures you have the right number of agents at the right time. There's no need for "just-in-case" staffing, and the chance of agents becoming overwhelmed with calls is reduced.
Whether you're running a remote workforce or a traditional office-based call center, make sure your forecasting volumes are accurate every single time by letting WFM software analyze your data and present forecasts.
Scheduling agents and planning shifts no longer involve hours of sifting through spreadsheets.
All the Features You Need With Nextiva
There are basic features like call routing and call whisper that you can get from most call center providers. What differentiates top providers from the others is what's going to make your business stand out.
When you integrate your unified communications, CRM, and call center software together into a single powerhouse solution, everything comes together.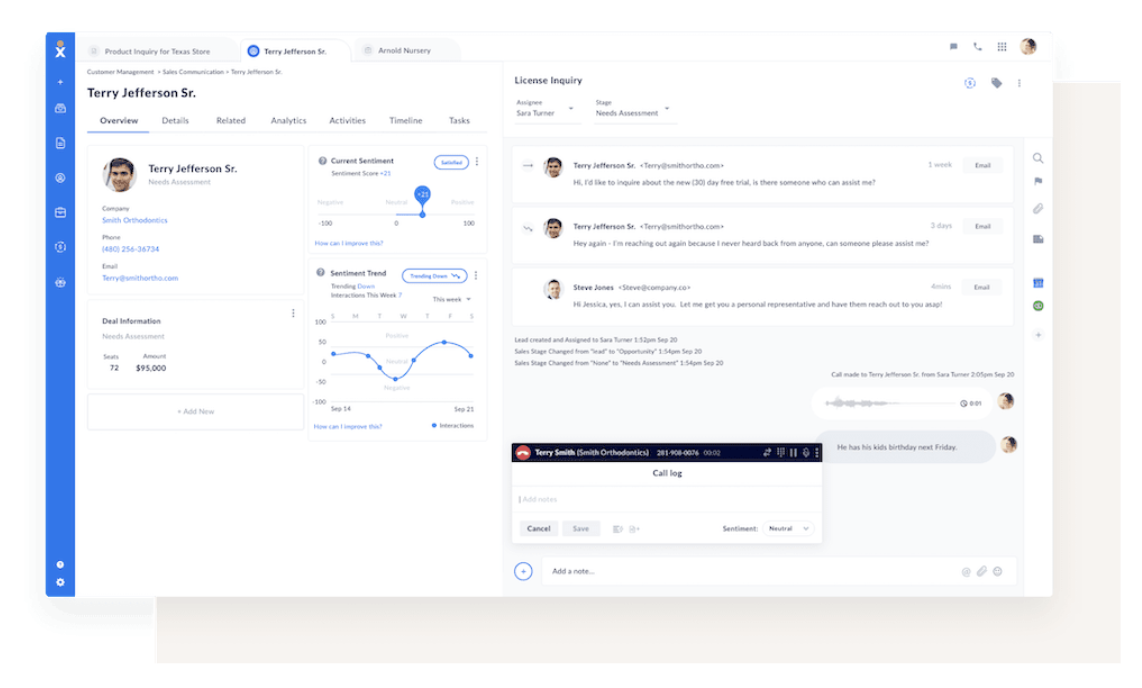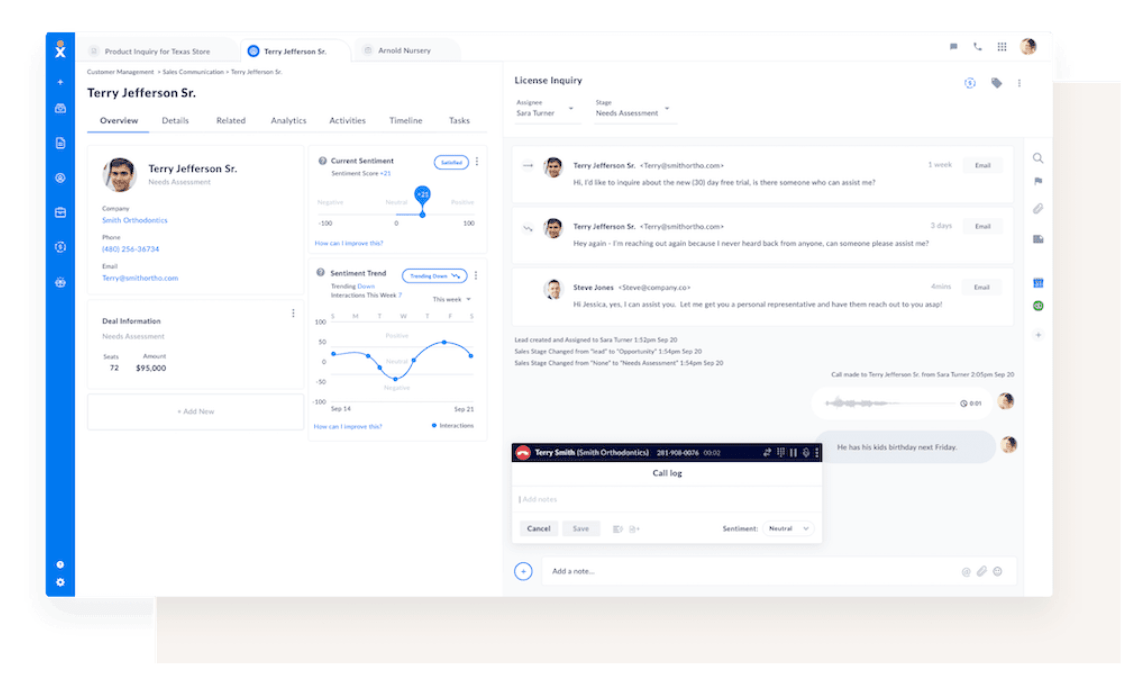 Agents are more productive than ever.
Customers are happier than ever.
With the added spice of AI and automation, features like IVAs and virtual queues result in fewer repetitive tasks that agents dislike and more time spent delighting your customers.
Nextiva stands out as the one call center solution that hits all these notes.
And our customers agree too:
"We were able to move away from an on-prem installation with very few features to a full-blown enterprise solution with call center capabilities and provide amazing customer service from an amazing partner."

Kelly Green

General Manager, AVIT

Ready to experience these call center features yourself?
👉 Get a personalized tour of the Nextiva Call Center.